Foodie Friday: Craft Food Pop-Up Dinners at Trio Craft Coffee
When Trio Craft Coffee first announced they were going to move locations several months ago, we at Jay Marks Real Estate were a little bummed. We wouldn't be able to walk across the parking lot for a green tea any more?? But we are so happy they've enjoyed lots of success in their new location on the corner of FM 2499 and FM 3040. And let's be honest - it's not that far away from our office.
And this week I was honored to be invited to a special, invite-only Craft Pop-Up Dinner at their new location put on by Nameless Chefs. Nameless Chefs is made up of chefs Jeremy Hess, Josh Farrell and Megan Stookey - all of whom have an incredible passion for food and who have incredible creativity when it comes to their dishes.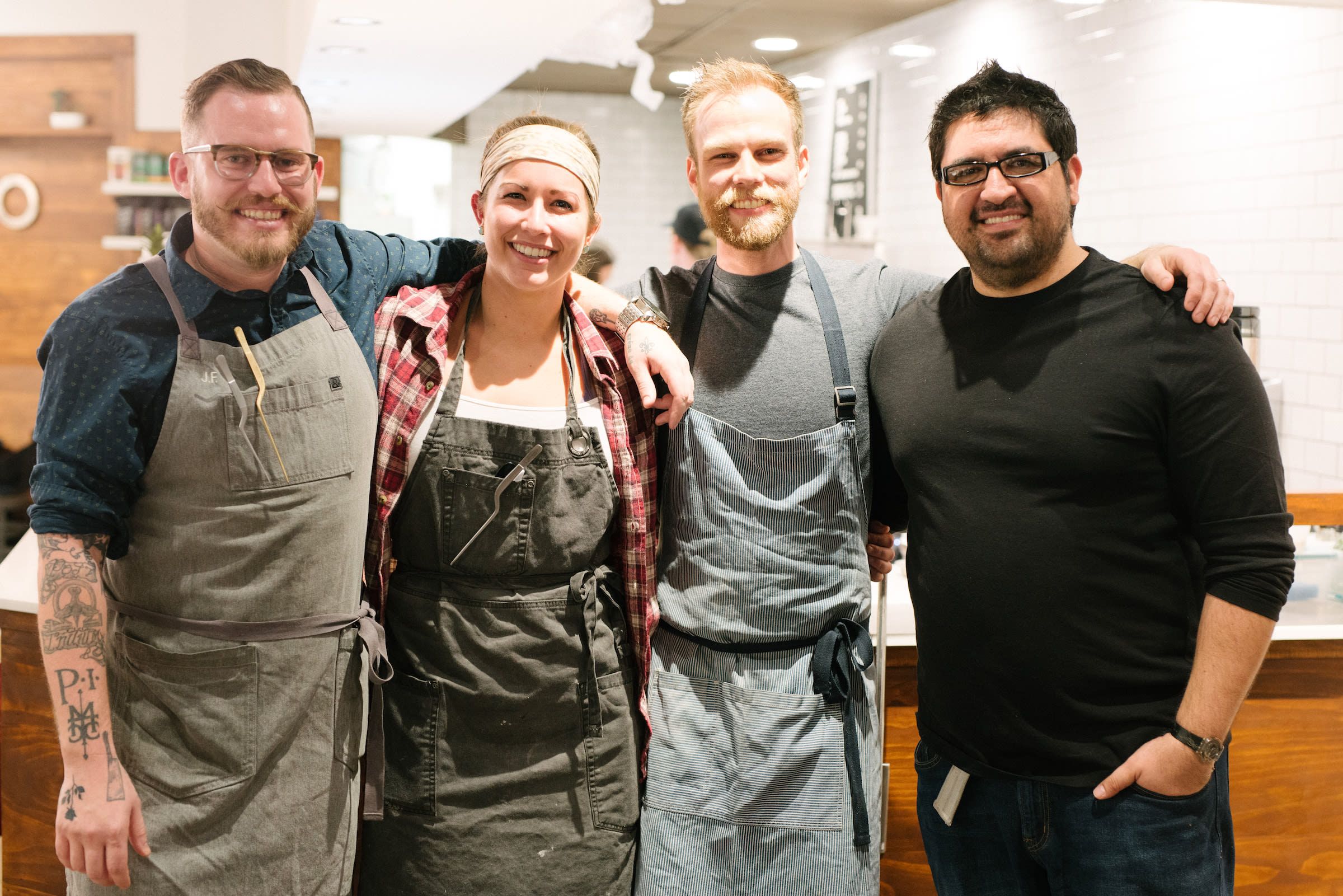 Chefs Jeremy Hess, Josh Farrell and Megan Stookey with Trio Craft Coffee Owner, Carlos Palacio. (All photos courtesy of Austin Leih.)
The idea for these pop-up dinners sprouted from a friendship between Trio Craft Coffee owners, Carlos and Susan Palacio, and Hess of Nameless Chefs. They all share a passion for high end, quality experiences brought down to an approachable level. And Trio Craft Coffee's heart for craft coffee and Nameless Chef's heart for craft food seemed to be a natural fusion.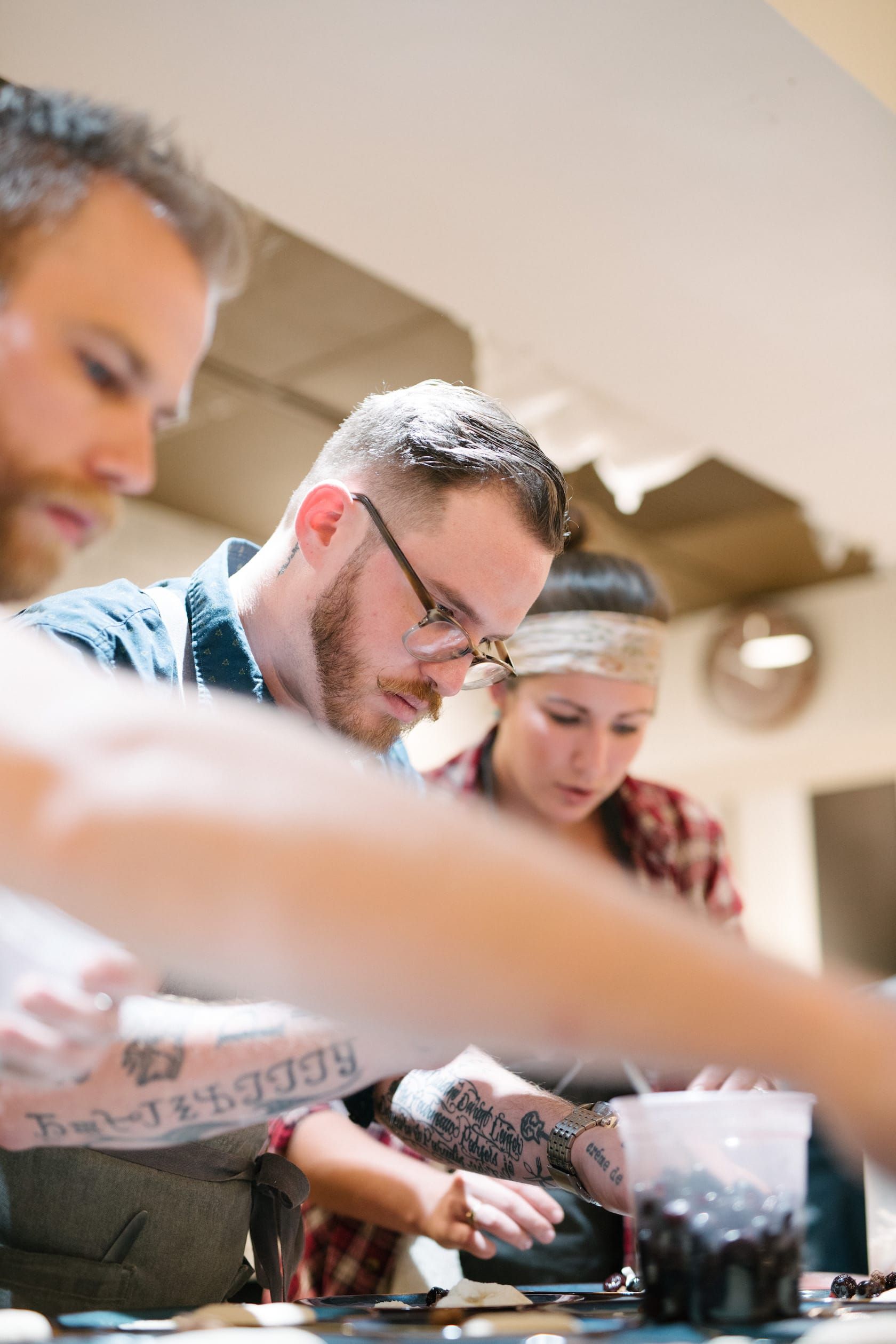 Carlos and Susan have loved how the chefs of Nameless Chefs have been able to incorporate coffee into their dishes and share that with some of their most loyal customers. And I have to admit - I was amazed at how creatively those chefs were able to include coffee flavors into their dishes as well!
The menu from last night's four-course pop-up dinner included dishes like: a Pour Over Pho made with butternut, cinnamon basil and green garlic; a Leg of Lamb served with Mountain Rose apple and coffee butter brussels sprouts; and a Coffee & Tobacco for dessert made with a caramel cream, brandied cherries and white chocolate.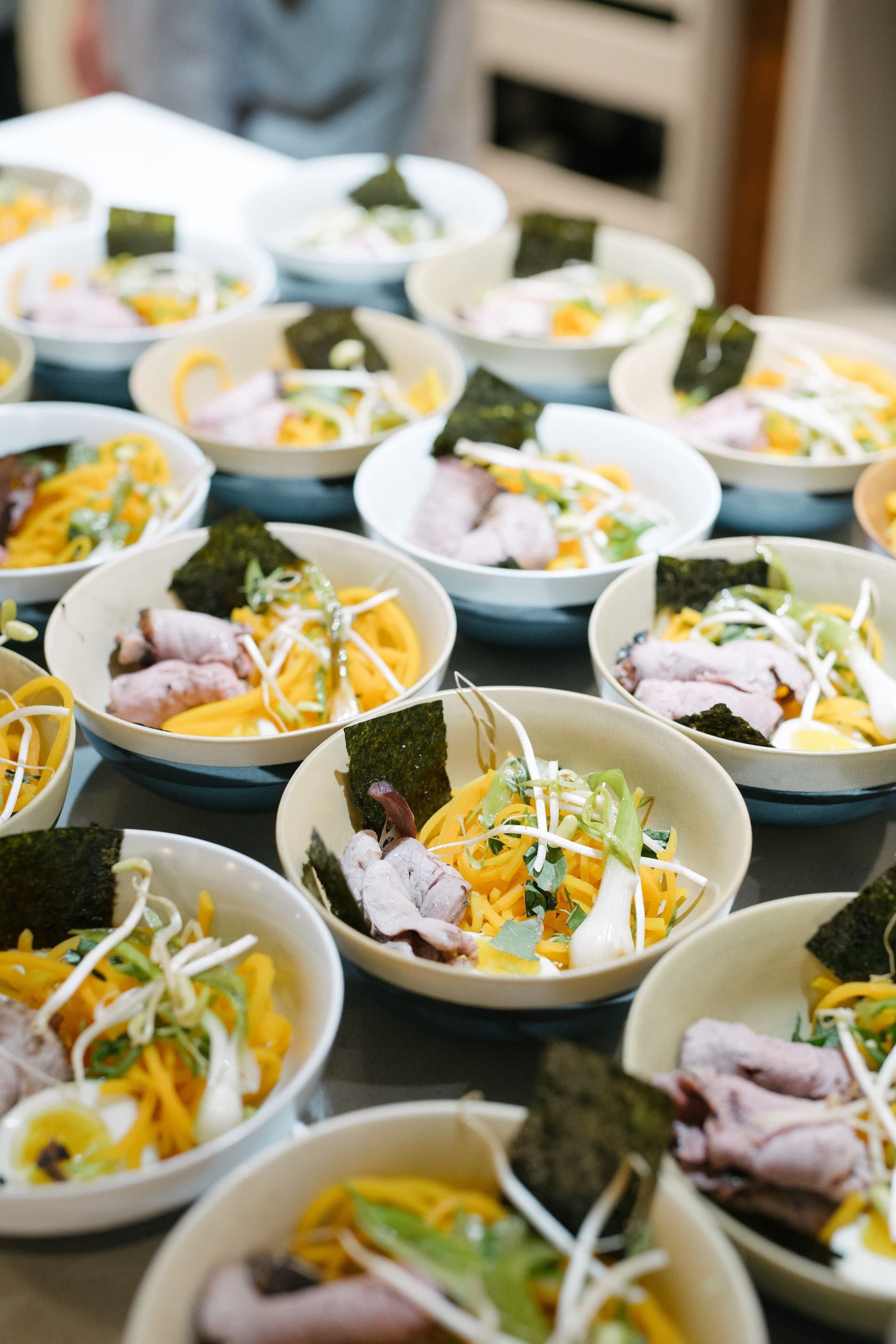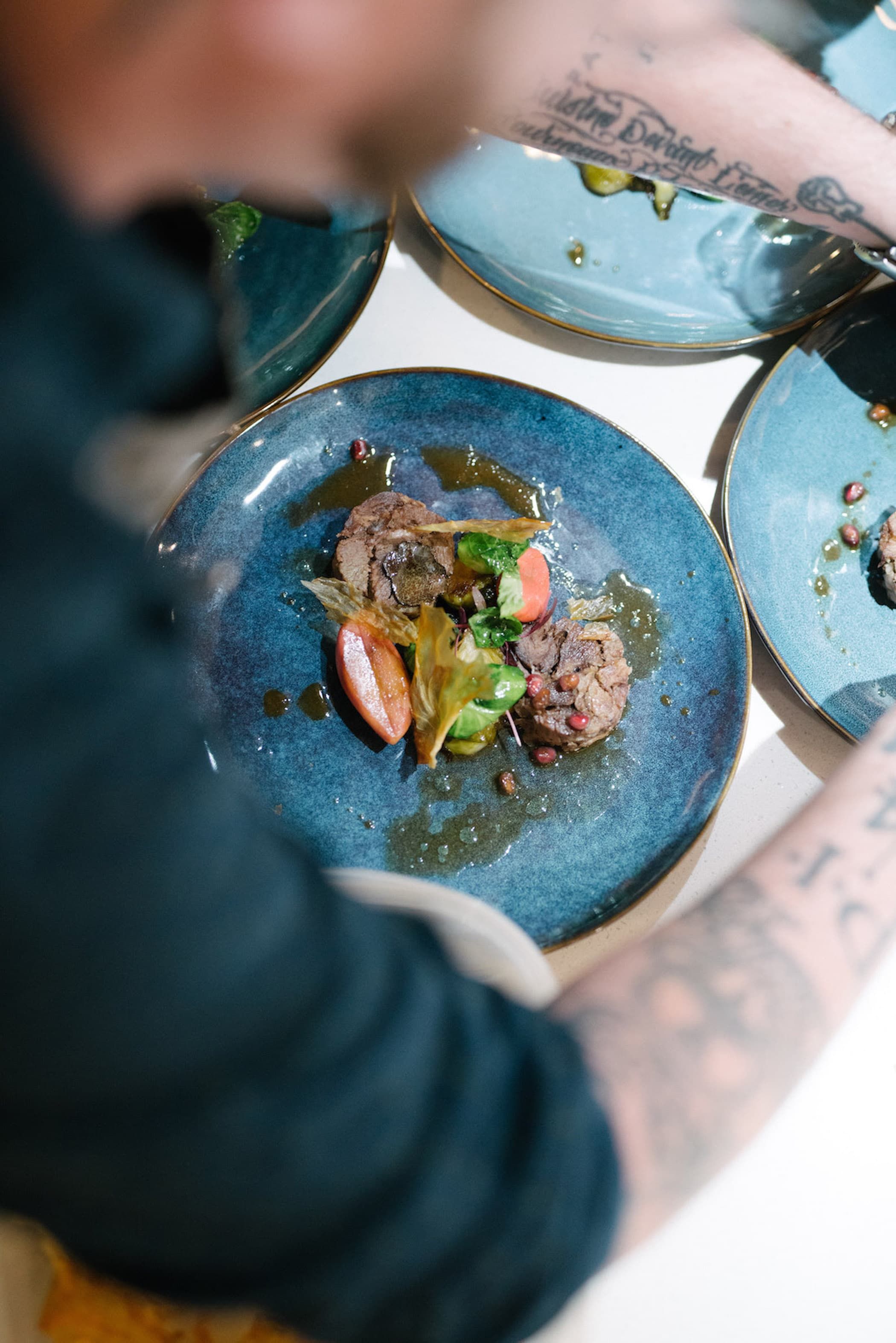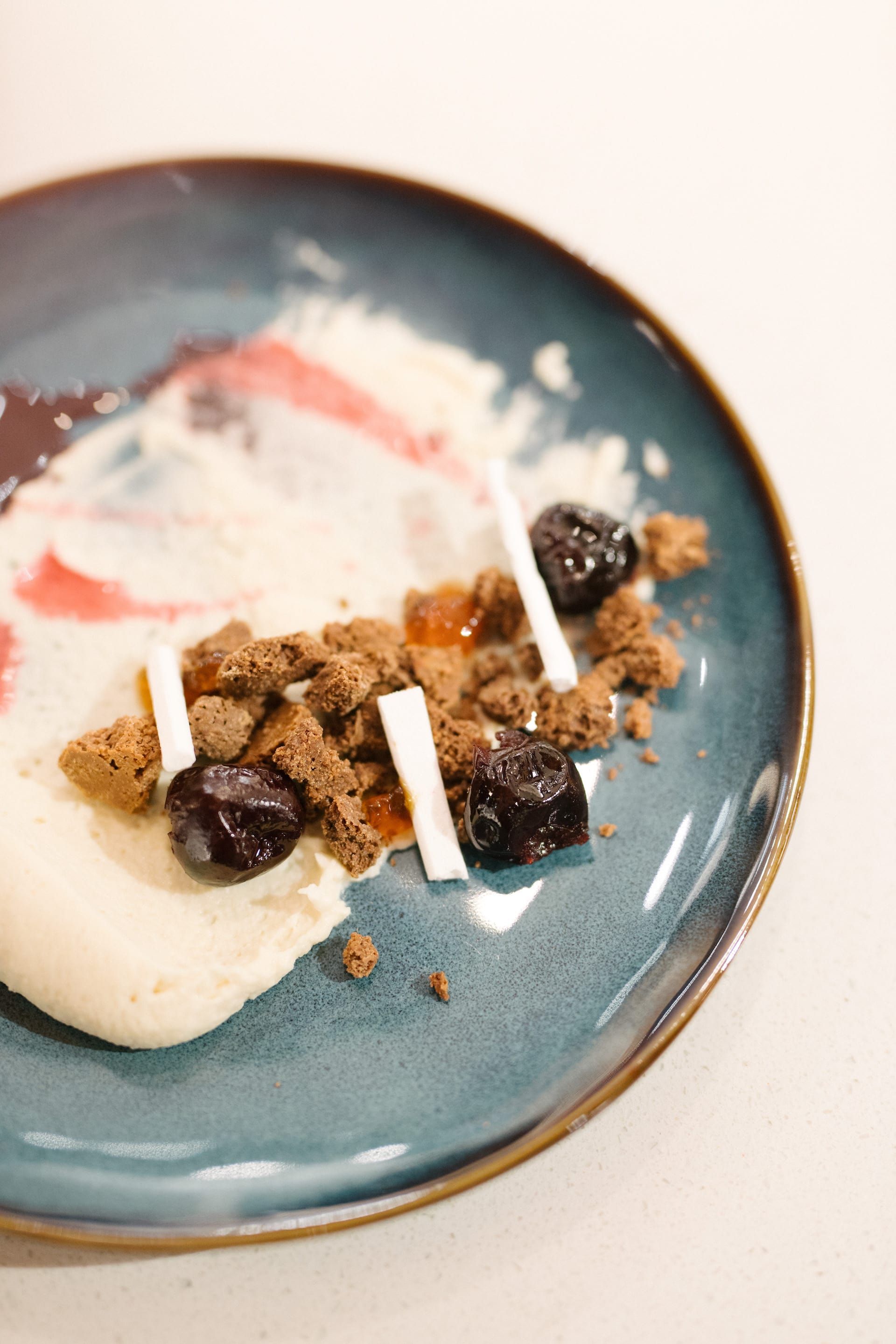 For those of you who are also fans of Trio Craft Coffee and who are interested in attending one of their future pop-up dinners, just send an email to Carlos and Susan at [email protected] that you'd like to be in the know next time they do it and you'll be added to the email list.
They'll only send a notice email out about a week in advance - thus why it's called a "pop-up" dinner.
If you're a coffee (or fine food) connoisseur, you'll want to get on that list! Trust me.
---
Trio Craft Coffee is owned by Carlos and Susan Palacio, who both dreamed of one day opening a local specialty coffee shop.
Carlos is a native of Mexico City and lived in Colombia before moving here to the United States, so he has a truly unique and refined taste and knowledge for coffee. Which is why they choose to use coffee beans from local roasters, Novel Coffee Roasters.
In addition to their incredible coffee drinks, Trio also serves a fantastic array of pastries which are delivered fresh from Zenzero Bakery in Coppell (another Foodie Friday favorite) and gluten-free Pinch of Salt Pastries. Or if you want something a little more substantial, they've also created some delicious hot sandwiches.
Since they've been open here in Flower Mound, they've garnered a highly loyal following and customer base. One of the other guests at the dinner I attended told me that he has made Trio Craft Coffee a part of his morning routine every morning for a year straight. That's commitment and love right there!
*Trio Craft Coffee is located at 2650 Flower Mound Road, 116, Flower Mound, TX 75028. Click here to follow them on Facebook or Instagram.
**Click here to follow Nameless Chefs on Facebook or Instagram.