Foodie Friday DFW: Partaking in History at J2 Steakhouse in Lewisville
Within the walls of the old Lewisville Feed Mill now lies an incredible, new, rustically-elegant restaurant called J2 Steakhouse.
Owner and Developer, Jim Murray - a resident of Hickory Creek and owner of the Prairie House Restaurant in Aubrey, took on the challenge of restoring the feed mill after it had been closed for more than five years.
The Lewisville Feed Mill closed in 2010 after being a hub of Old Town Lewisville for 124 years. It was originally opened as the Lewisville Feed Mill Livery Stable in 1886 by J.W. Degan and served as a centerpiece of the city for over a century.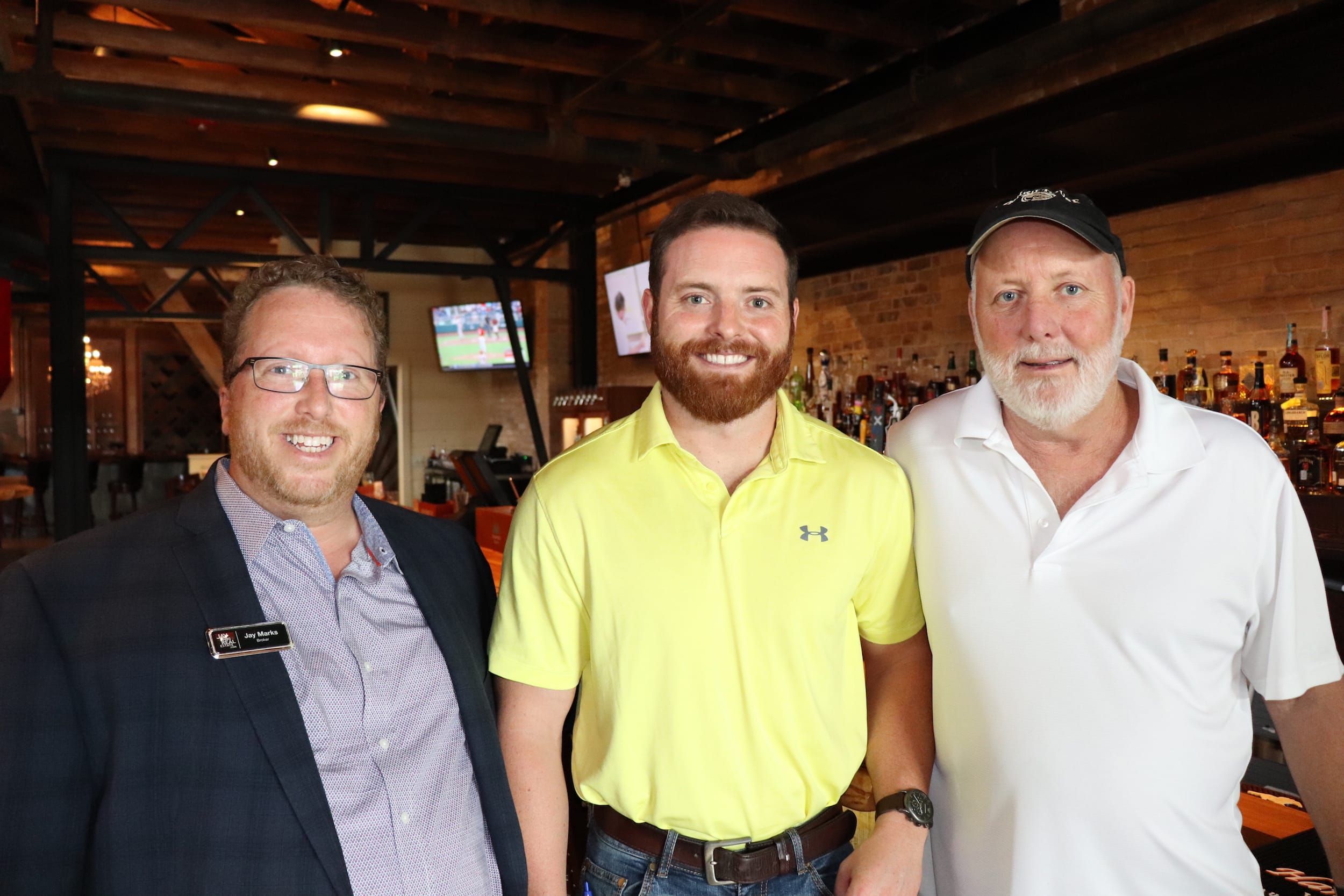 Jay with Owners Michael & Jim Murray
Jim and his team worked diligently to preserve the unique history contained within the walls of the feed mill. At the back of the restaurant, you can still see the original mills. Serving as the focal-point of the well-stocked bar is a gorgeous mantlepiece that was crafted in the 1800's. And if you look up at the light fixtures, you'll notice their eccentric craftsmanship. That's because they were created using items found around the feed mill as they were restoring the building.
And as far as the food goes, Jim has brought on an incredible Chef to create a unique farm-to-table style menu. Chef Johnathan Pauley brings a straightforward approach to cooking and affinity for seasonal, market-sourced ingredients to J2 Steakhouse, resulting in approachable yet innovative Texas-inspired cuisine.
Nearly everything is created in-house - from their Worcestershire sauce to their house-made pretzel bread to their dry-aged meats.
Some of the signature dishes Chef Pauley has created include: a Peach and Burrata Salad; Seared Scallops served with a stone fruit chutney and balsamic gastrique; Baby Boar Chops; and their Akaushi Ribeye topped with a Meyer Lemon Compound Butter.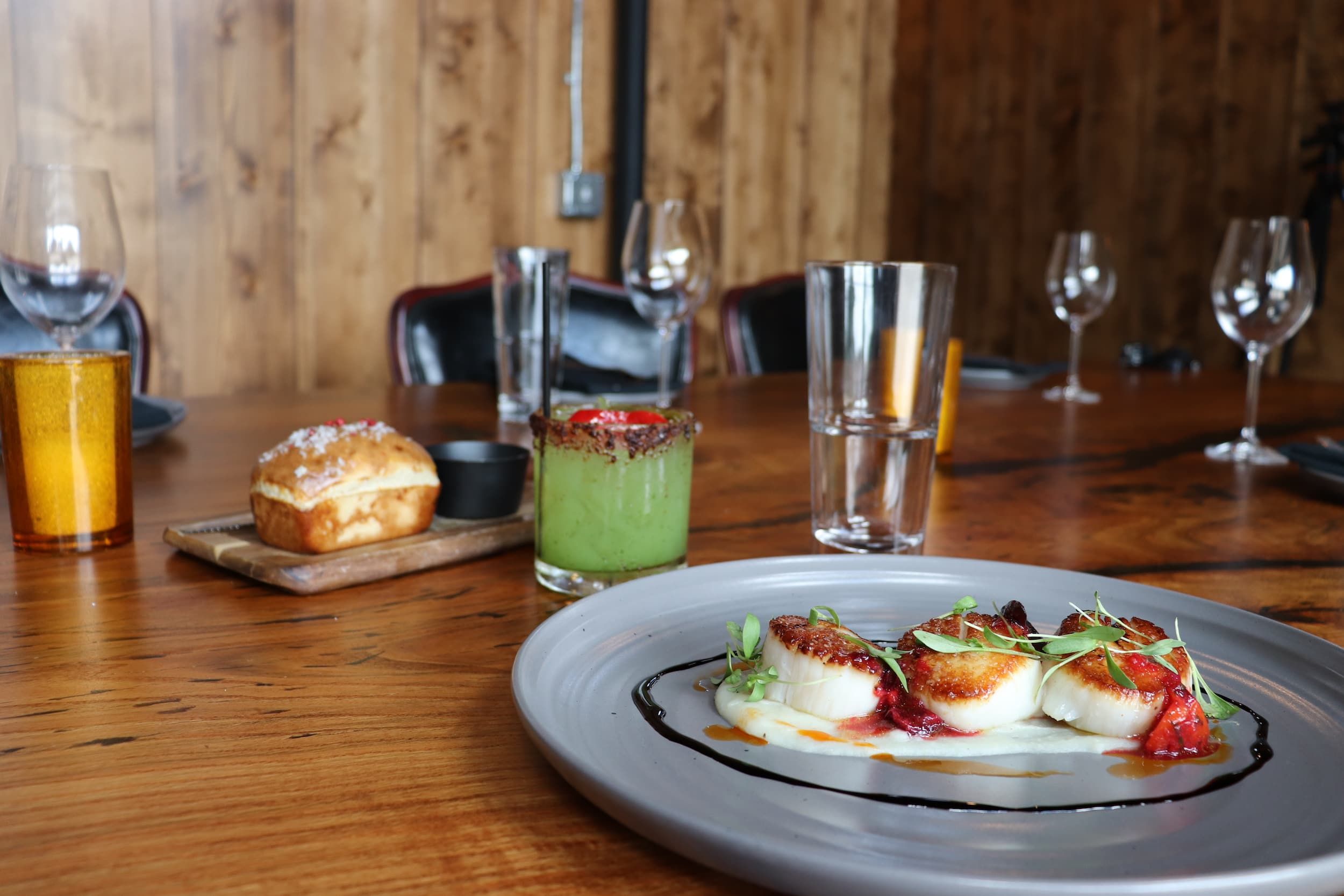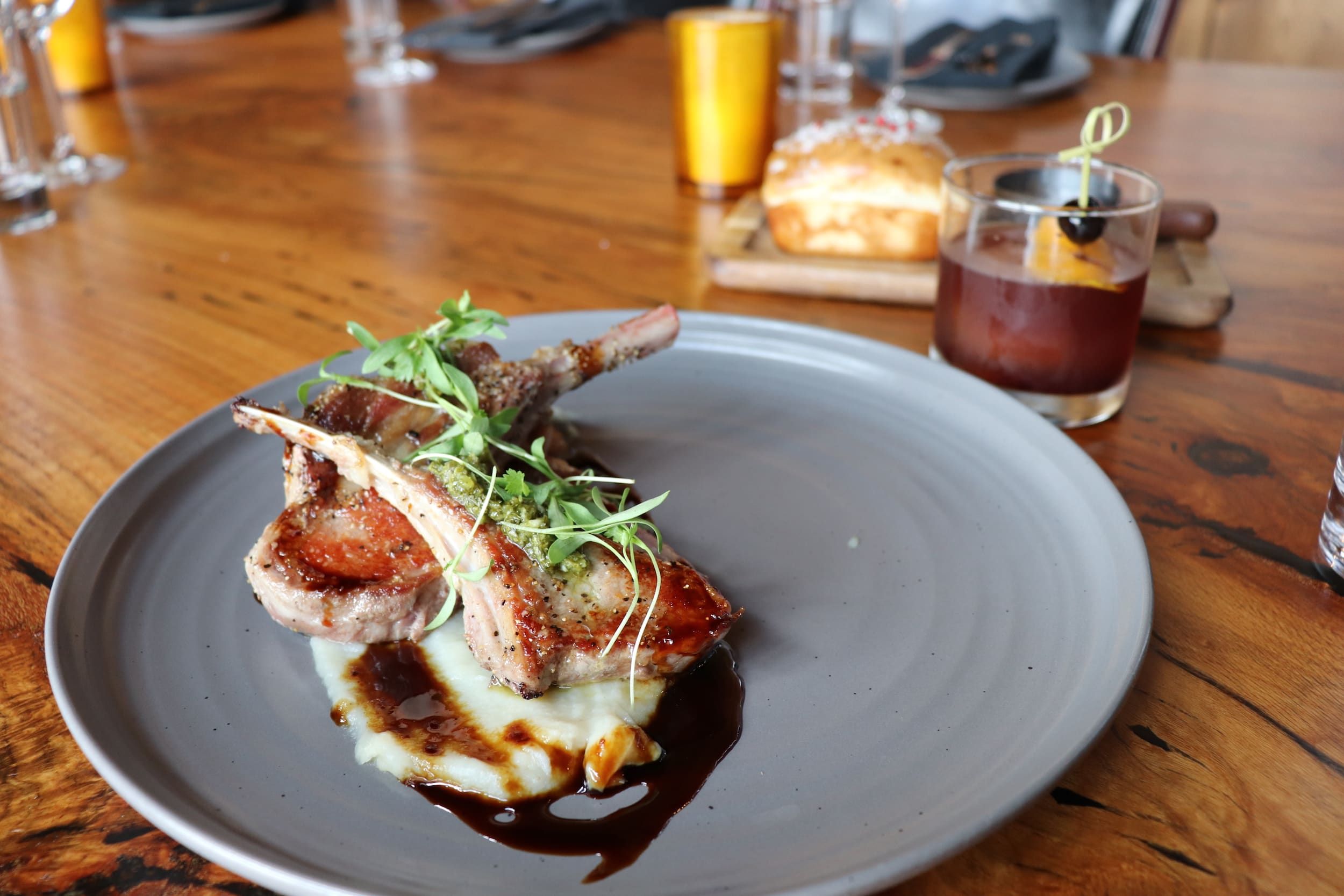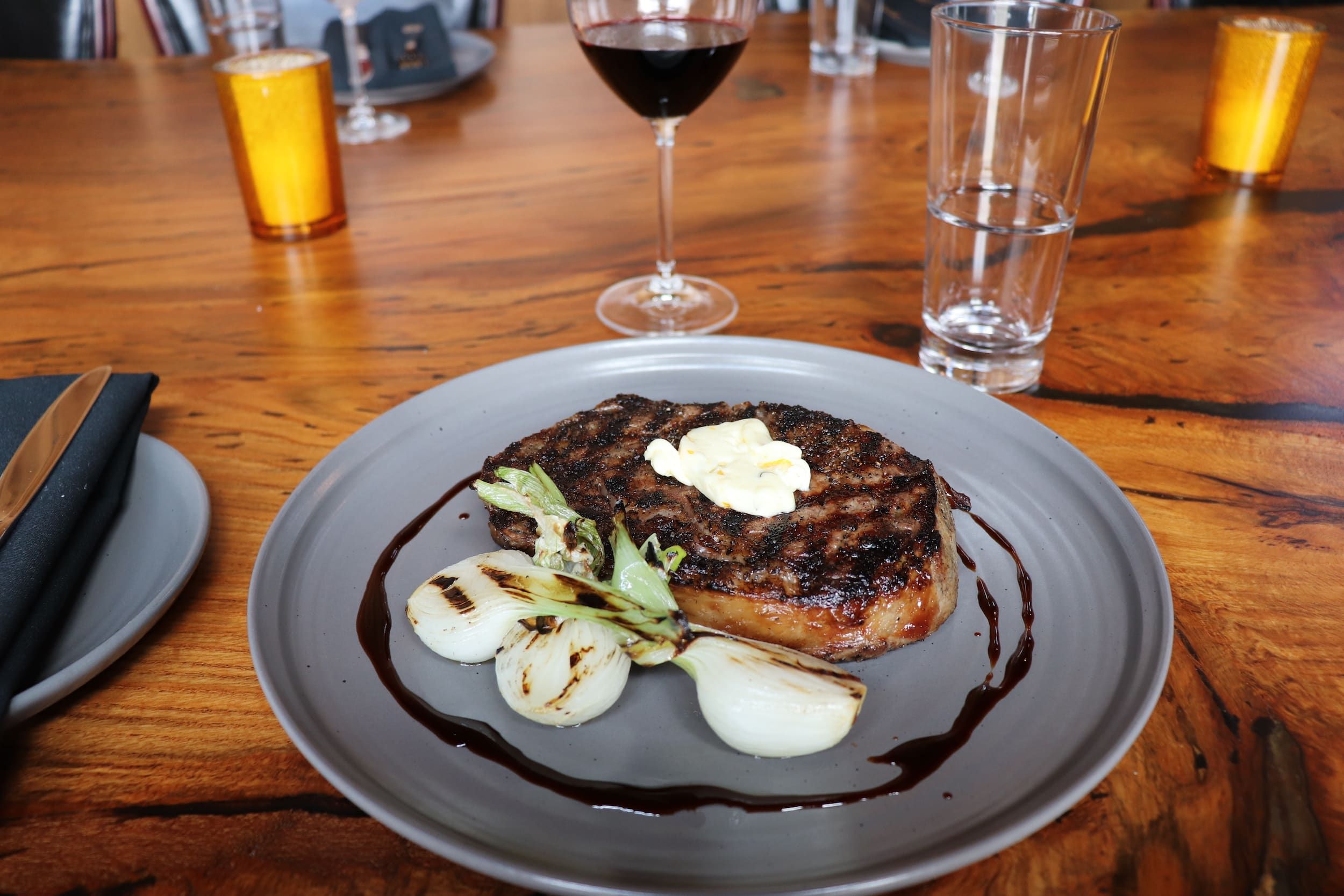 To compliment their incredible food, J2 Steakhouse also has a fantastic lineup of cocktails, wines and beers. Two of their signature cocktails include the Duke's Old Fashioned made with cherry, brown sugar, bitters and orange zest and the Texas Mirage made with silver tequila, a cucumber and jalapeno puree, and comes served with an ancho chile salt rim.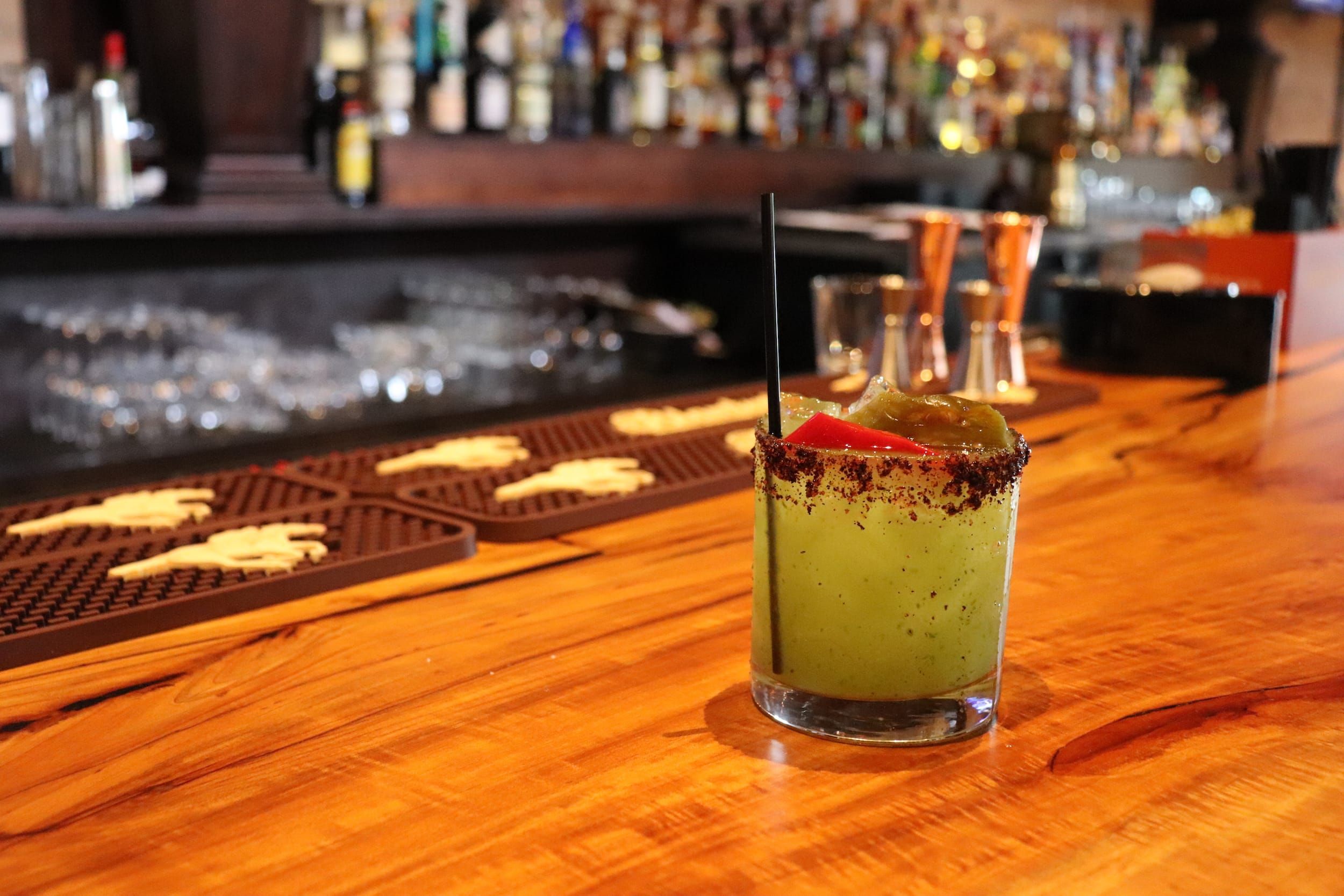 Throughout the week, you can join them for Happy Hour from 4-6pm and half price bottles of wine on Wednesdays. But also keep an eye out for some of their special events like their Four-Course Whiskey Pairing and wine dinners, which happen twice a month.
J2 Steakhouse is also the perfect place to host your private events. They have a stunning VIP room that seats 16 at the custom-made table made from one piece of wood that came from a live water oak off the Neches River in Central Texas. And it is stunning! And their larger room can accommodate up to 100 people for your larger parties.
The entire restaurant is really a sight to see. Jim says that the building in and of itself is a show and has a life of its own that he was honored to restore and showcase to the community again.
So, head down to J2 Steakhouse to view all the beautiful updates and upgrades Jim made to the old feed mill. You'll feel like you're taking part in a little piece of history!
*J2 Steakhouse is located at 119 E Main St, Lewisville TX 75057.