Foodie Friday: End of Summer Re-Cap
It's been a busy summer for us at Jay Marks Real Estate and Foodie Friday, and we've had the chance to visit some incredible new restaurants that have quickly become favorites of ours.
So, we thought we'd use our post this week to recap where we visited this summer, some of our favorite dishes at each spot, and encourage you to get out and try any of these places you missed!
421 US 377 S, Argyle, TX 76226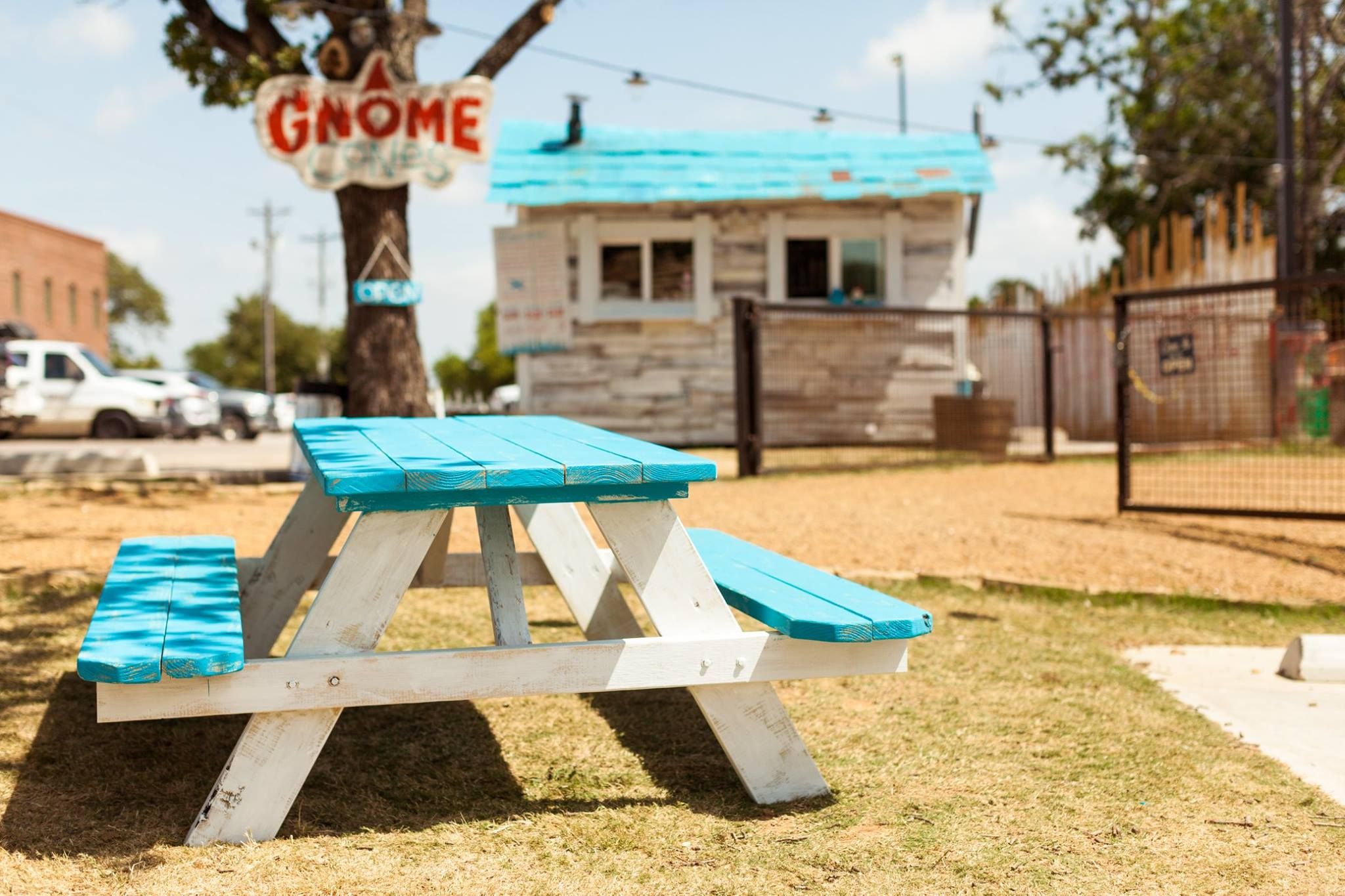 Located on the increasingly popular corner of FM 407 and US 377, Gnome Cones has quickly become a hot spot for cooling down with their tasty shaved ice treats.
Alex Sparks and Bret Hawkins are the co-founders of Gnome Cones and are childhood best friends. They always joked around about how good the name "Gnome Cones" sounded and spent years trying to master how to make the best snow cone. We're happy to announce they finally figured it out (there are no dyes or preservatives in their flavors) and decided to open their snow cone shack next to Bumbershoot BBQ this summer.
One of their most popular flavors is the Apple Pie with cream. We also love combining their Pina Colada with the Pomegranate - it feels like something you'd sip on while laying by the pool!
901 Long Prairie Rd #108, Flower Mound, TX 75022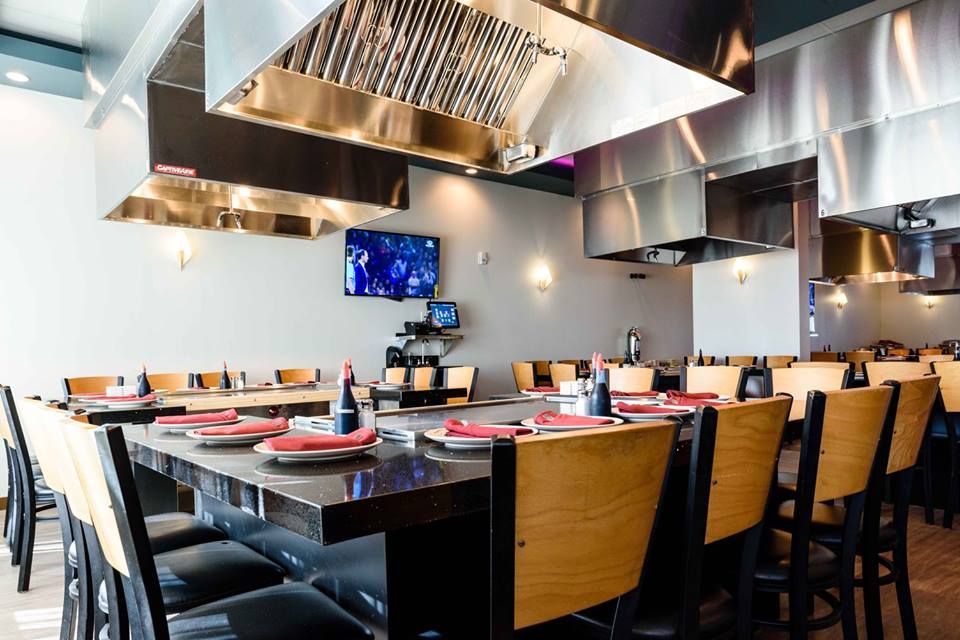 Just when we think Lakeside DFW can't hold any more fantastic restaurants, they bless us all with another incredible dining option!
Hanaya Hibachi & Sushi is owned and operated by the same people who run Kobeya Japanese Steak & Sushi in Southlake Town Square and are used to providing incredible food with great service.
They offer 8 hibachi tables for diners, or if you'd rather sit at one of their dine-in tables and enjoy offerings from their menu of sushi, ramen, and rice bowls, you can do that as well. And while much of the experience feels similar to other hibachi restaurants, the food was unlike any other I've tasted! They are able to infuse their own Hanaya style into their dishes and it's just something you have to experience for yourself to understand completely.
They also have an incredible sushi menu, with Chef Specials that are out of this world.
1900 Long Prairie Rd #146, Flower Mound, TX 75028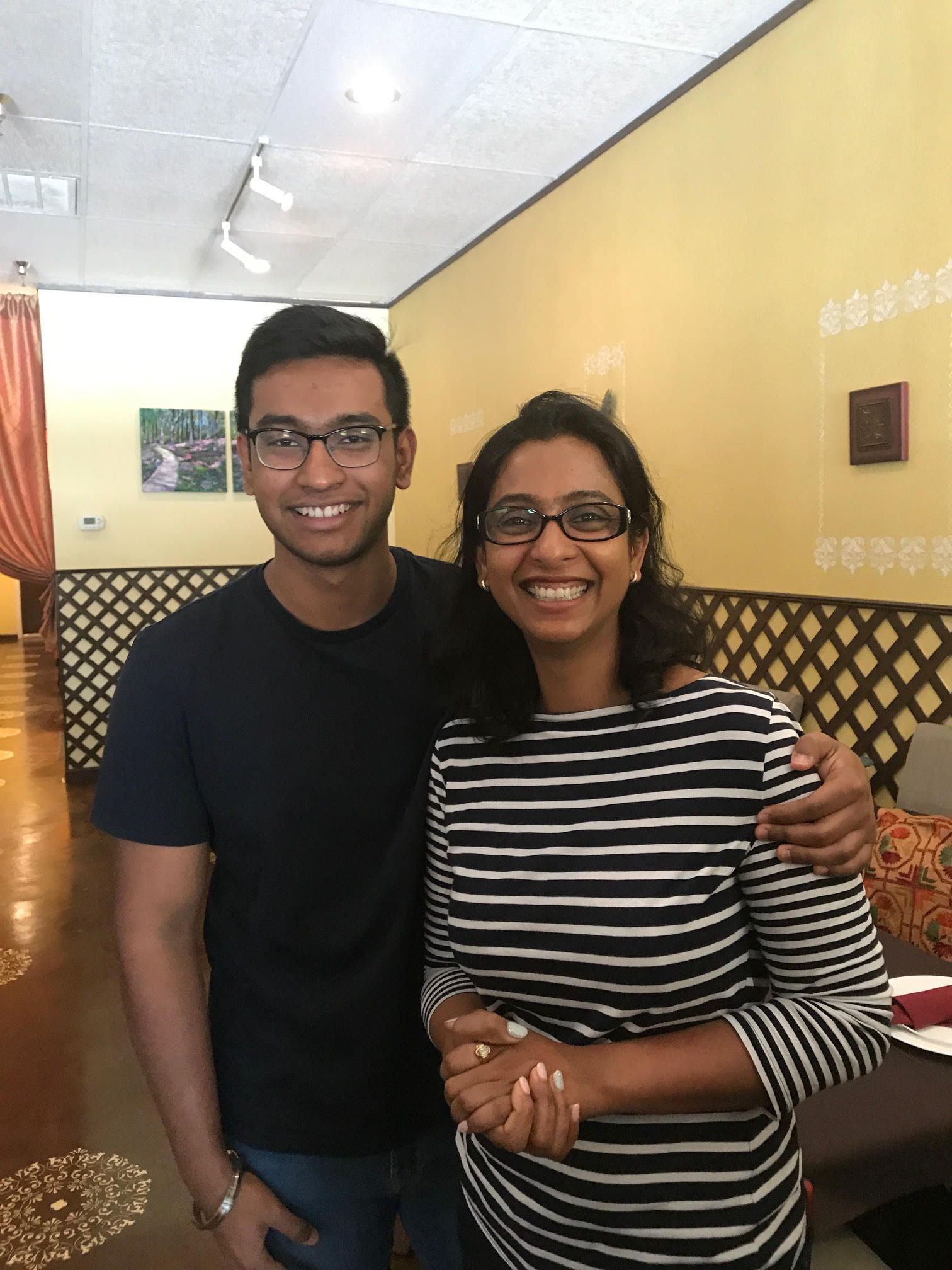 Mona Singh and her son, Karan.
I'm the first to admit that I'm kind of a newbie when it comes to Indian cuisine, but after dining at Urban Tadka I absolutely fell in love with all of the spices and flavors Indian food offers!
The Flower Mound location of Urban Tadka is their second here in DFW and both are owned and operated by Happy and Mona Singh who are long-time residents of Flower Mound. Several years ago, while working as a telecom engineer, Happy decided it was time to begin pursuing his lifelong dream of owning a restaurant. In order to learn more about how to correctly prepare and serve Indian cuisine in a restaurant setting, Happy began working part-time in the evenings at an Indian restaurant in Dallas.
In 2013, they opened their first location in Irving and then opened their second location here in Flower Mound earlier this year after much begging and pleading from their friends for some quality, authentic Indian food to be brought to our area.
Here were our personal favorites from our visit: Appetizers - Samosas & Tandoori Chicken; Entrees - Shahi Paneer, Chicken Tikka Masala, and Lamb Shahi Korma.
2601 W Windsor Dr, Flower Mound, TX 75028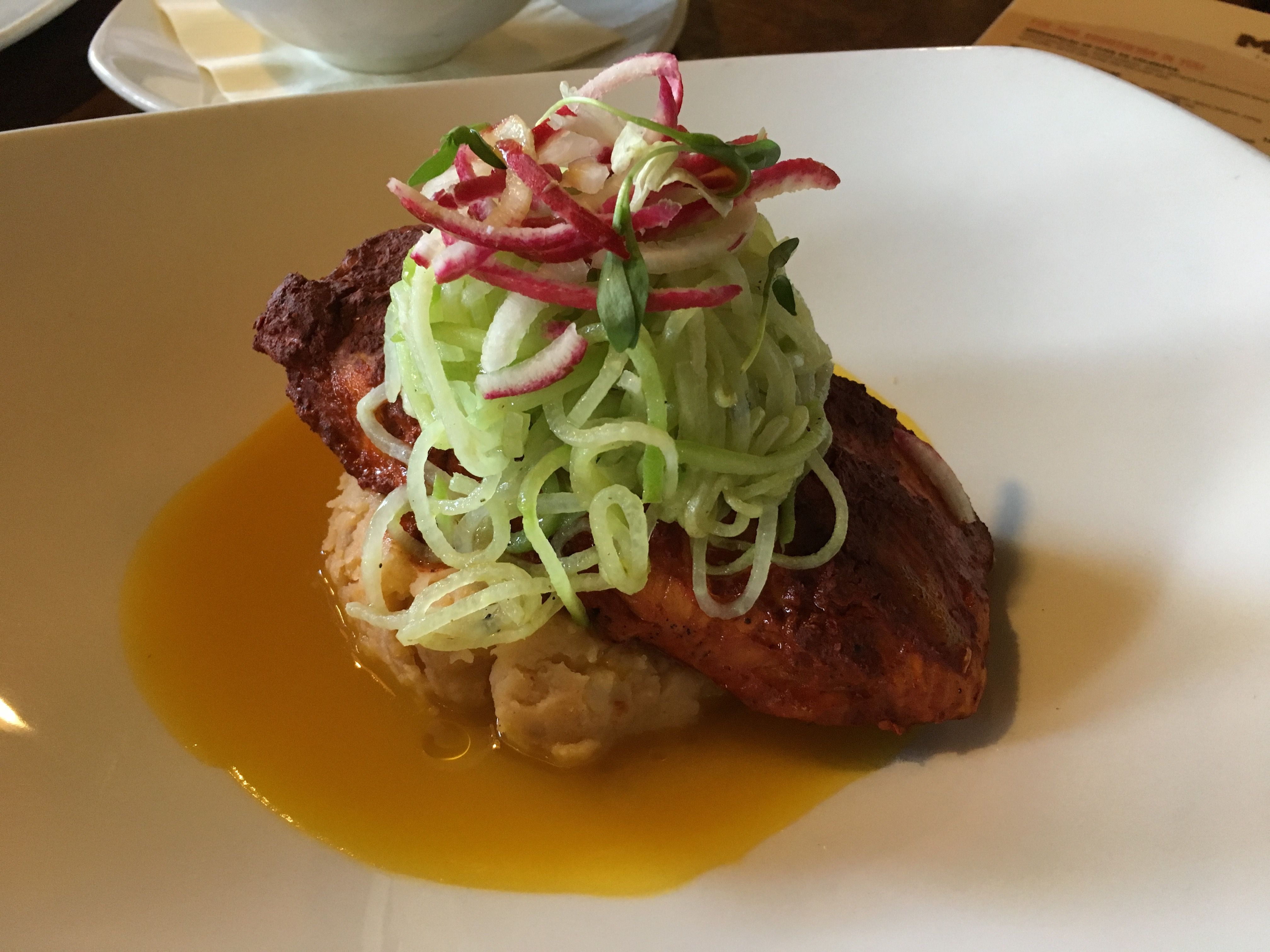 Before the Flower Mound location had its grand opening, we visited Mi Dia's original location in Grapevine to sample their menu and chat with Executive Chef Gabriel DeLeon who opened the Grapevine location back in 2011.
Mi Dia from Scratch has gained a loyal following over the last six years and as they've opened subsequent locations throughout the metroplex. And we couldn't be more thrilled they chose to make Flower Mound the spot for one of those locations!
They have an incredible cocktail menu with margaritas like their Heart of the Desert made with a blood orange liqueur and their Hibiscus Champagne Margarita made with a hibiscus sorbet and dry ice.
Some of our favorite dishes from their entree menu include the Carne Asada (perfect for those of you who, like me, are limiting your carb intake), the Steak and Relleno, and the Wood Grilled Banana Leaf Wrapped Salmon.
201 W Church St, Lewisville, TX 75057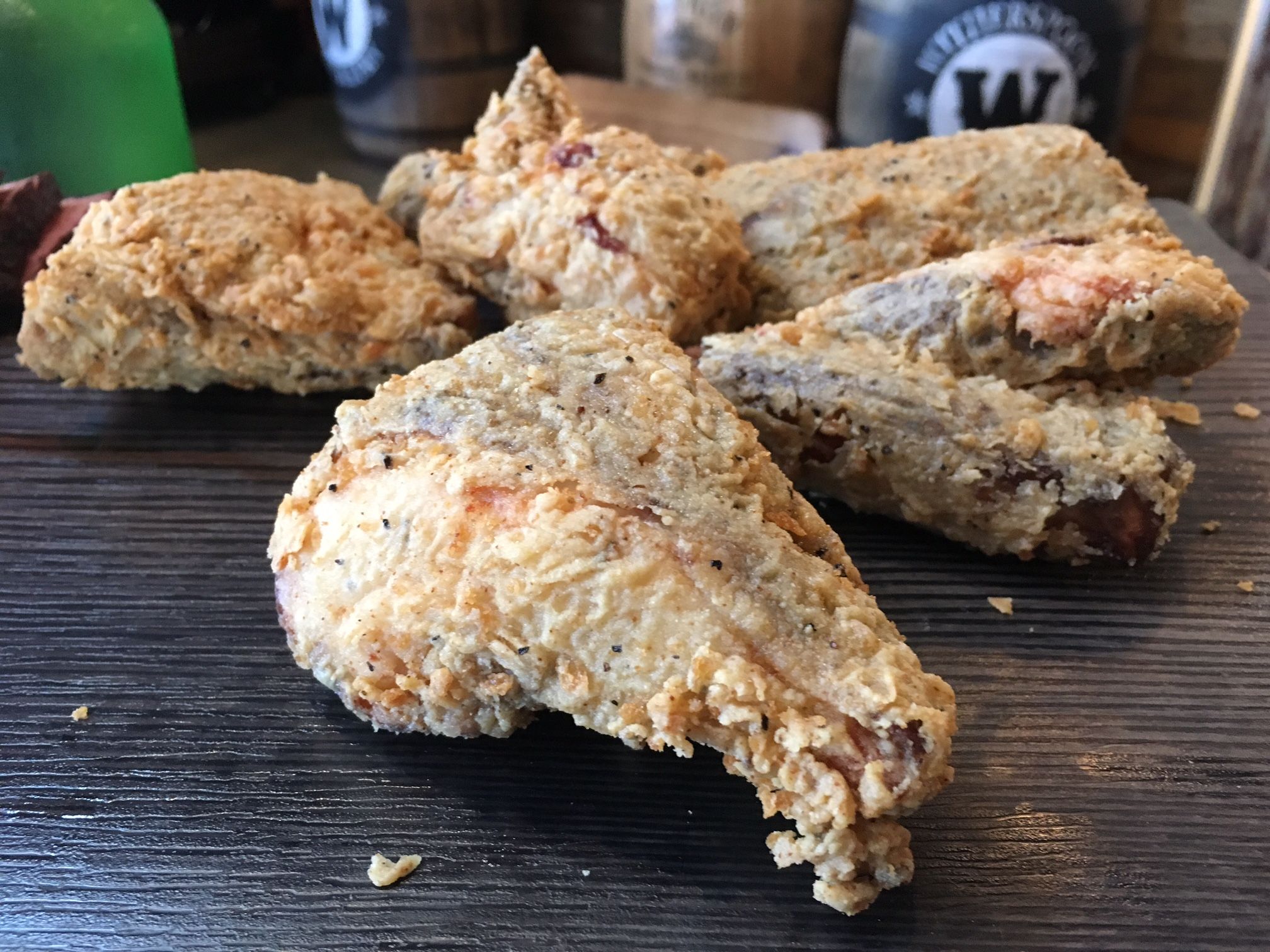 We love seeing all the growth that's happening in Old Town Lewisville with several restaurants opening their doors this year - to include Prohibition Chicken.
Prohibition Chicken is a family-style restaurant that serves classic homestyle dishes with their own special, unique twists on them. But the coolest part about this restaurant? The prohibition-style bar that's hidden behind the walls of the telephone booth!
The concept for Prohibition Chicken was created by four local guys (Chef Roger Kaplan, Ken Johnsen, Josh Babb, and Sean Clavir) who have a passion for two things: chicken and whiskey. And this restaurant perfectly marries those two passions together.
Everything from their salad to their desserts was fantastic. Our personal favorites were their cornmeal biscuits, the Smoke Fried chicken, the Smoked Cheddar Ale Mac 'n Cheese and their seasonal Granny Smith Apple Cobbler.
103 N Oak St, Roanoke, TX 76262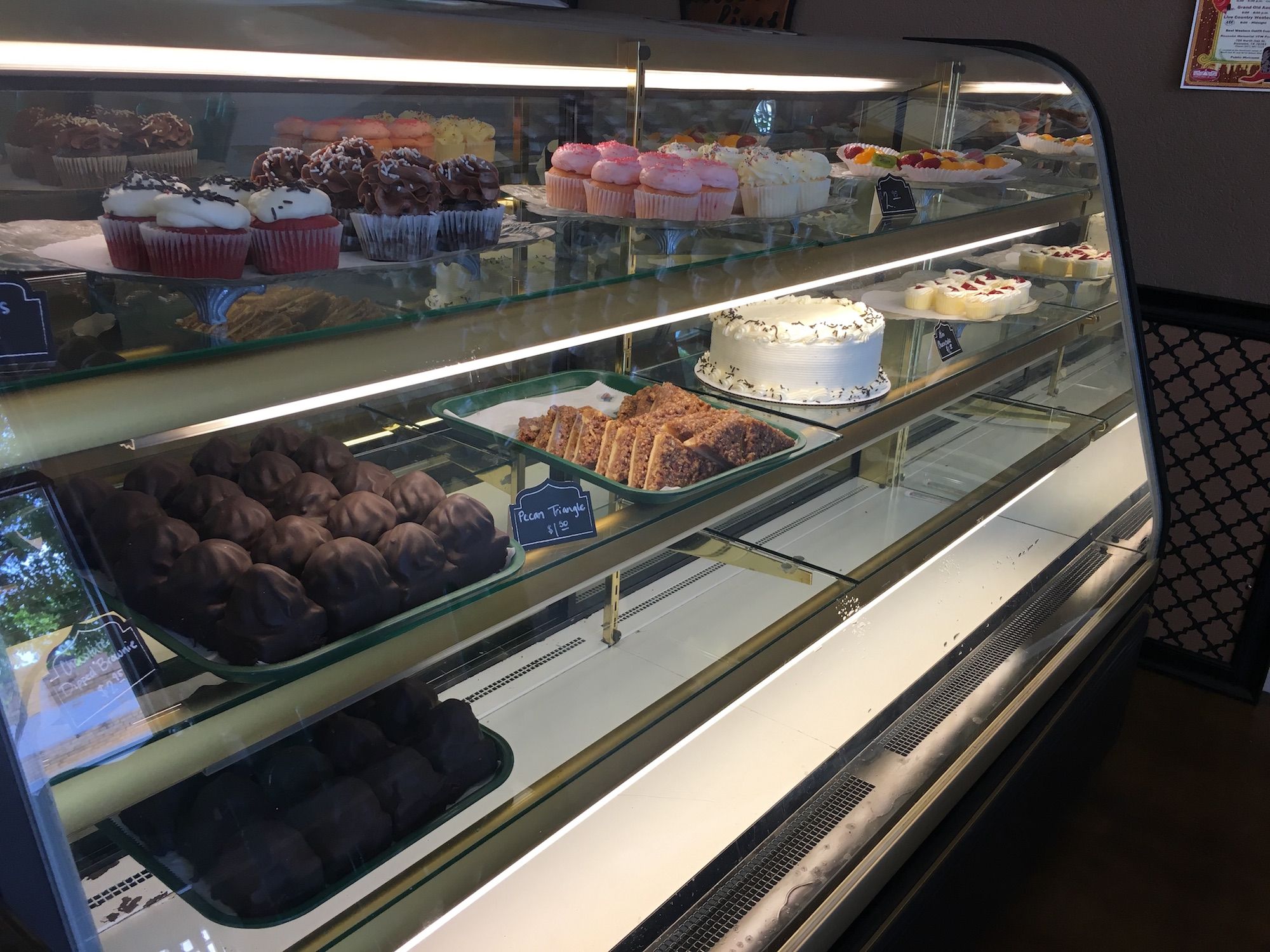 Sometimes our real estate adventures take us outside our bubble of Flower Mound-Lewisville-Highland Village and we have to find great places to eat outside the bubble too!
While visiting some of our listings in Roanoke, we decided to give Downtown Roanoke's resident cafe and bakery, Mugs a try. And it was charming and delicious!
While talking to one of the owners, Lainie, we learned that she and her mother, Kim, have been serving up their baked goods in Roanoke since 1996. We also learned that Mugs Cafe & Bakery is the only place in DFW where you can find a chocolate dipped brownie! (Holy delicious!)
They have over 20 other pastries to choose from including Napoleons, Eclairs, Macaroons, Cheesecakes, Cookies, and Bars.
And they have some delicious sandwich options if you need something a little more substantial. We had their Chicken Salad and Club sandwiches, but they also have a Holiday made with cream cheese, cranberry and turkey that sounds incredible!
1050 Flower Mound Rd #310, Flower Mound, TX 75028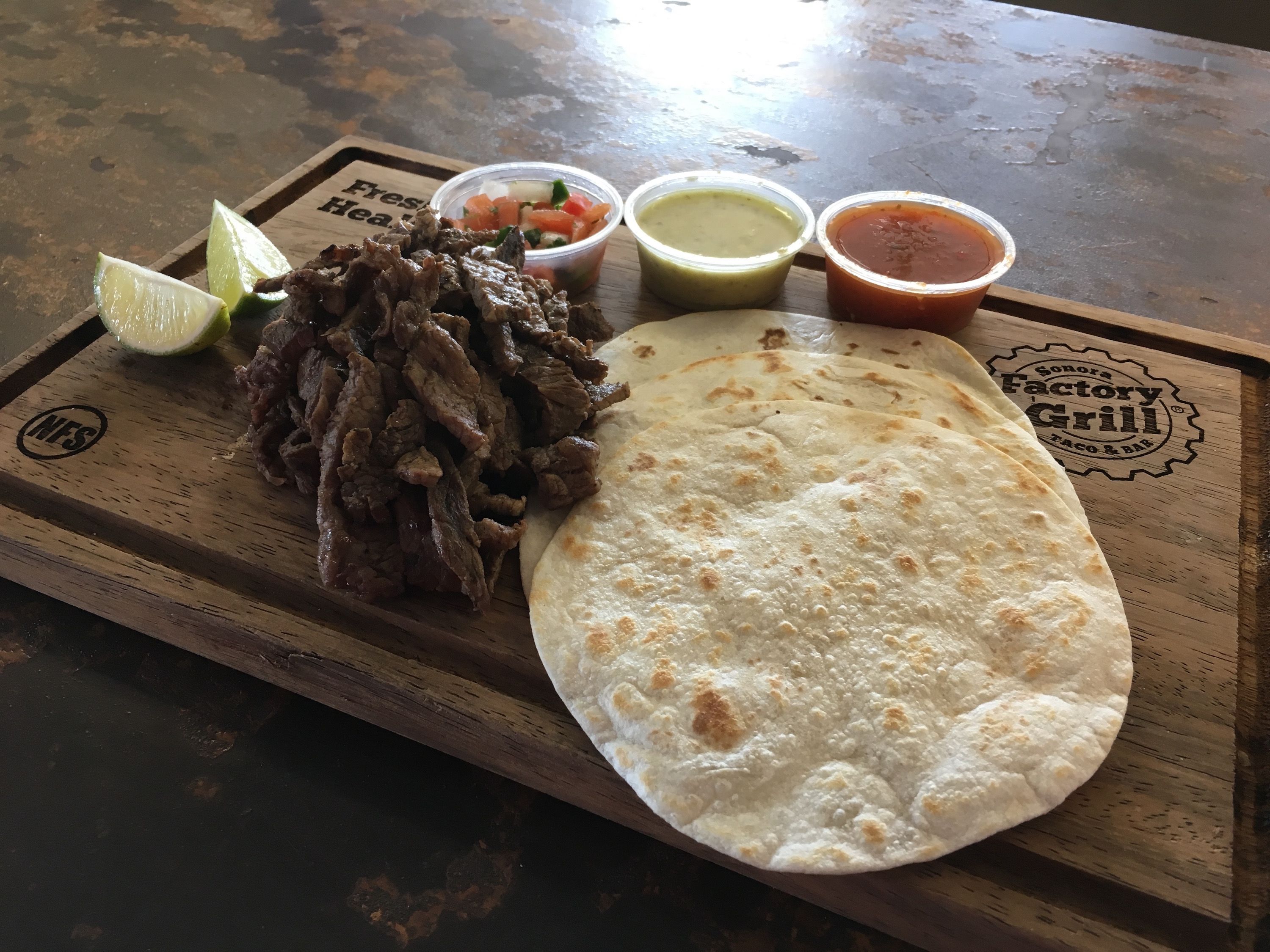 If you want authentic Mexican cuisine in a fast-casual setting, you need to check out Sonora Factory Grill.
Sonora Factory Grill is a Mexican-based restaurant concept that was brought here to the States by Frisco residents, Juan and Jackie Carrera. And the Flower Mound location is the first location here in the US! How cool is that?
They are the only restaurant in the world to have a unique conveyor grill which is able to cook 12 pounds of steak in just a few minutes. This enables them to serve fresh, made-to-order food quickly to their dine-in customers as well as to their drive-thru customers.
As far as Sonora's food goes - it's some of the Mexican dishes we've all become familiar with like nachos, tacos and burritos but served in an authentic Mexican style.
We tried a couple of their most popular dishes - the Tres Amigos which is Carne Asada served with 3 tortillas, salsas, lemon and refried beans so you can assemble your own tacos; and their Super Nachos which come served with refried beans, two kinds of melted cheese, sour cream, guacamole and your choice of protein.
421 US-377, Argyle, TX 76226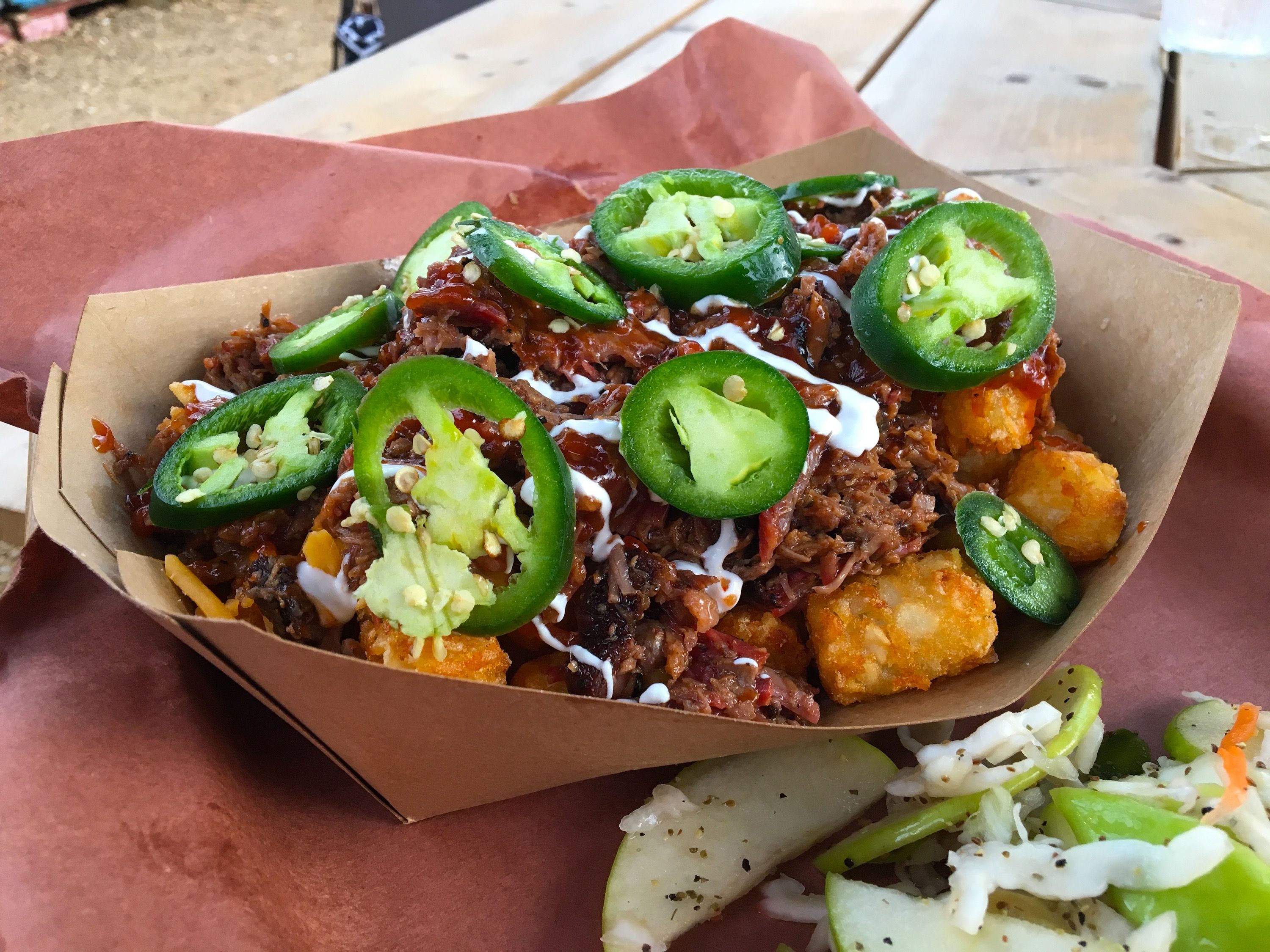 Bumbershoot BBQ is also located on the corner of FM 407 and US 377 and is the brain child of local restaurateur, John "Sparky" Pearson.
You may not expect to see incredible barbecue served out of a trailer in a parking lot, but that's exactly what Bumbershoot BBQ is and it's AMAZING. And just like with his other restaurants, Sparky and his team have created an incredible atmosphere to enjoy the food in. Order your food from the trailer and then sit down and enjoy it at one of the picnic tables situated under a canopy of string lights. On a beautiful night, almost nothing is better!
Pitmaster, Jason Ramey, and Executive Chef, Chad Kelley, have created a fantastic menu. Bumbershoot serves up all your traditional barbecue favorites: brisket, turkey, ribs, chicken sausage and pulled pork. You can order your meat by the pound, on a plate served with two sides, or served up on a sandwich.
We highly recommend you try their Loaded Tater Tots which are a mountain of tots topped with melted shredded cheddar cheese, chopped brisket, sour cream and jalapenos and their twist on a classic coleslaw made with apples and jalapeno.
2628 Long Prairie Rd, Flower Mound, TX 75022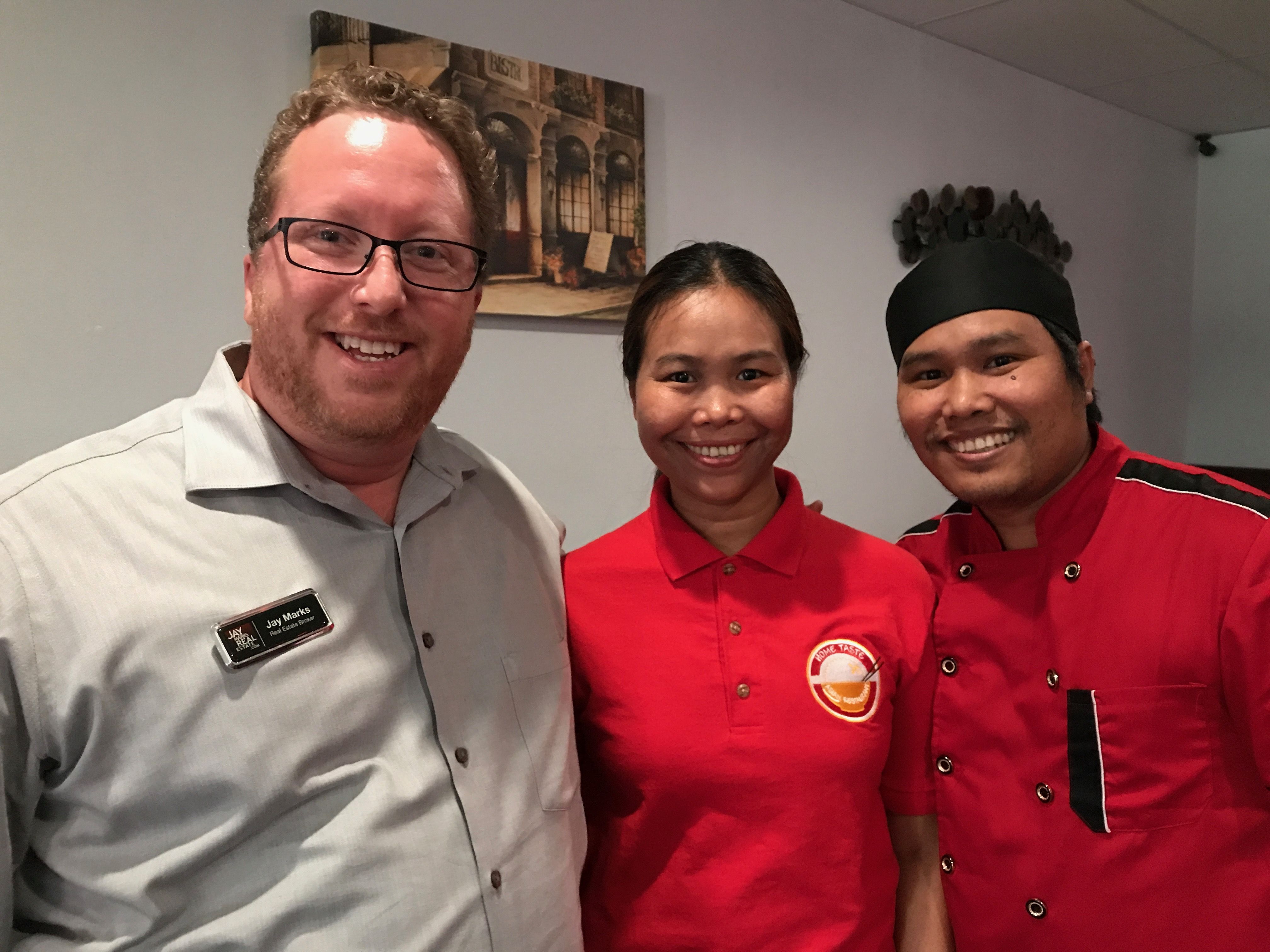 Sometimes we come across a story that affects us more than any other. And that's what happened when we visited Home Taste Asian shortly after they opened near our office in Flower Mound.
Owners Za and San San both grew up in Burma, where they were a part of forced labor because of their Christian beliefs. After years of being persecuted by the military-ruled government, Za and San San finally built up the courage to escape in the middle of the night across the border to Malaysia where they sought refugee status. There Za worked as a cook and made several other trips back until he was able to bring other members of his family to the refugee camp.
Za has spent the last 12 years learning to cook all varieties of Asian cuisine by studying other chefs, reading books and even watching YouTube videos. And he makes some truly incredible food with that experience!
Their sushi menu is fabulous - some of our favorites are their Spicy Tuna Roll and their Rainbow Roll. They even recently named a roll after me, so ask them what "The Jay" is next time you go in!
Home Taste Asian also serves a fusion of several other Asian dishes like Orange Chicken, Fried Rice, Pad Thai, Ramen, soups, and some Asian-inspired salads.
1900 Long Prairie Rd, Flower Mound, TX 75022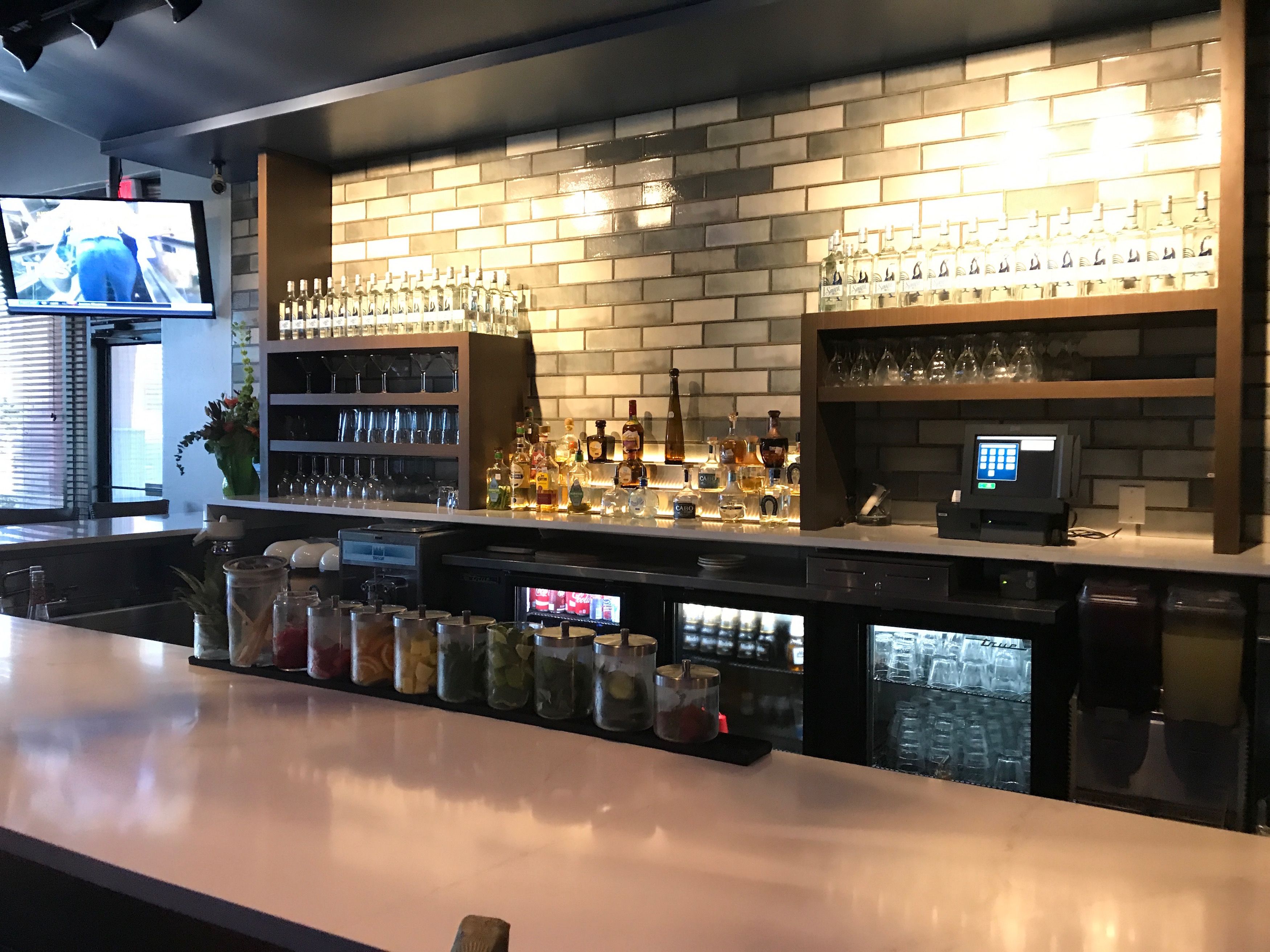 Anamia's has long been an institution here in Flower Mound and they ended their summer by revealing a brand new look! The Flower Mound location closed down for four days and four nights during which time they updated the bar, the flooring, the furniture, artwork and decor.
But that's all that has changed - don't worry! They're still serving all the Anamia's classics you've grown to know and love, including their tableside guacamole and their margaritas like their Maui Sunrise.
Some of our personal favorite menu items are their Steak Fajitas and their Fajita Picante (which also happens to be General Manager, Michael Barrerra's favorite menu item.
2450 Lakeside Pkwy ste100, Flower Mound, TX 75022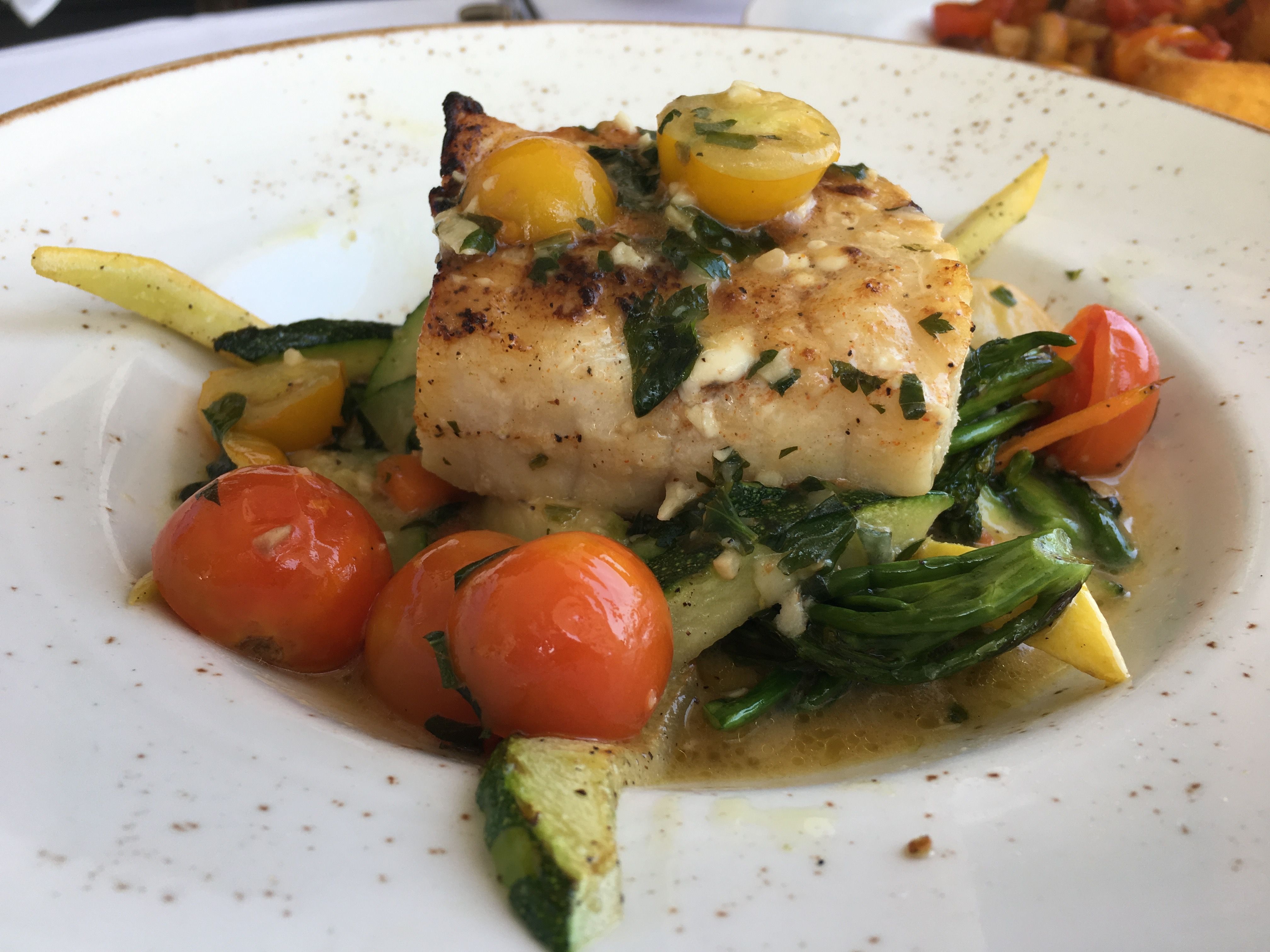 Mio Nonno is another one of the incredible restaurants that has opened this year in Lakeside DFW. We love heading there on a Friday night to enjoy their menu and listen to the live music played during the Lakeside Music Series.
Noti Krasniqi and Chef Francisco make the perfect team at the Flower Mound location in Lakeside DFW, and their common goal is to introduce locals to the fine dining Italian cuisine you can find in New York City.
Mio Nonno has incredible lunch and dinner menus, but they are also looking to start serving a brunch menu on Sundays and you can enjoy them throughout the week for their specials like "Wine & Dine Wednesdays" where they serve up luxurious wines at incredible prices and "Ladies Night" on Thursdays where their martinis are $4.
Some of our absolute favorite menu items are their Chef Special Chilean Sea Bass, their Meat & Cheese Board, and their Cacciatore.
3701 Justin Rd #150, Flower Mound, TX 75028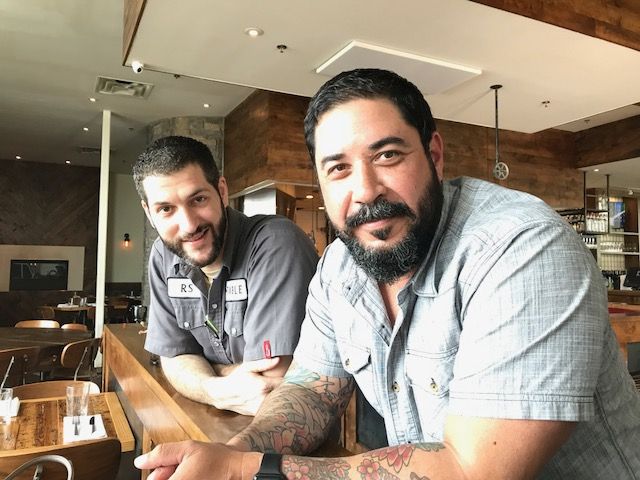 The team at The Table celebrated their almost two-year anniversary by opening up a new restaurant in Deep Ellum called IdleRye which is a smaller, funkier, more prohibition-style version of The Table here in Flower Mound.
They've also incorporated some changes at The Table, adding dishes like their Bacon Wrapped Meatloaf served with a tomato bourbon glaze and their Meatballs which come served on top of a creamy, Parmesan polenta. You'll also want to stay tuned to their menu because as the weather (hopefully) cools down, they'll be adding some fantastic "comfort food" options (think more meat and potatoes).
On Saturdays and Sundays, they serve their brunch menu which includes options like their Buttermilk Vanilla Pancakes, Chorizo Hash, and their own version of an Eggs Benedict.
We personally love their Tater Tots, Deviled Eggs, Table Burger, and their Bread Pudding for dessert. But there are really so many great items on their menu that it's hard to choose favorites.