Foodie Friday: New Cavalli Pizza Firing Things Up in Old Town Lewisville
We have been so excited over the past few years to learn about the plans the City of Lewisville has for revitalizing Old Town Lewisville. And with a few of their highly-anticipated restaurants opening in the last couple of weeks, we were thrilled to make our way out there to try one of them!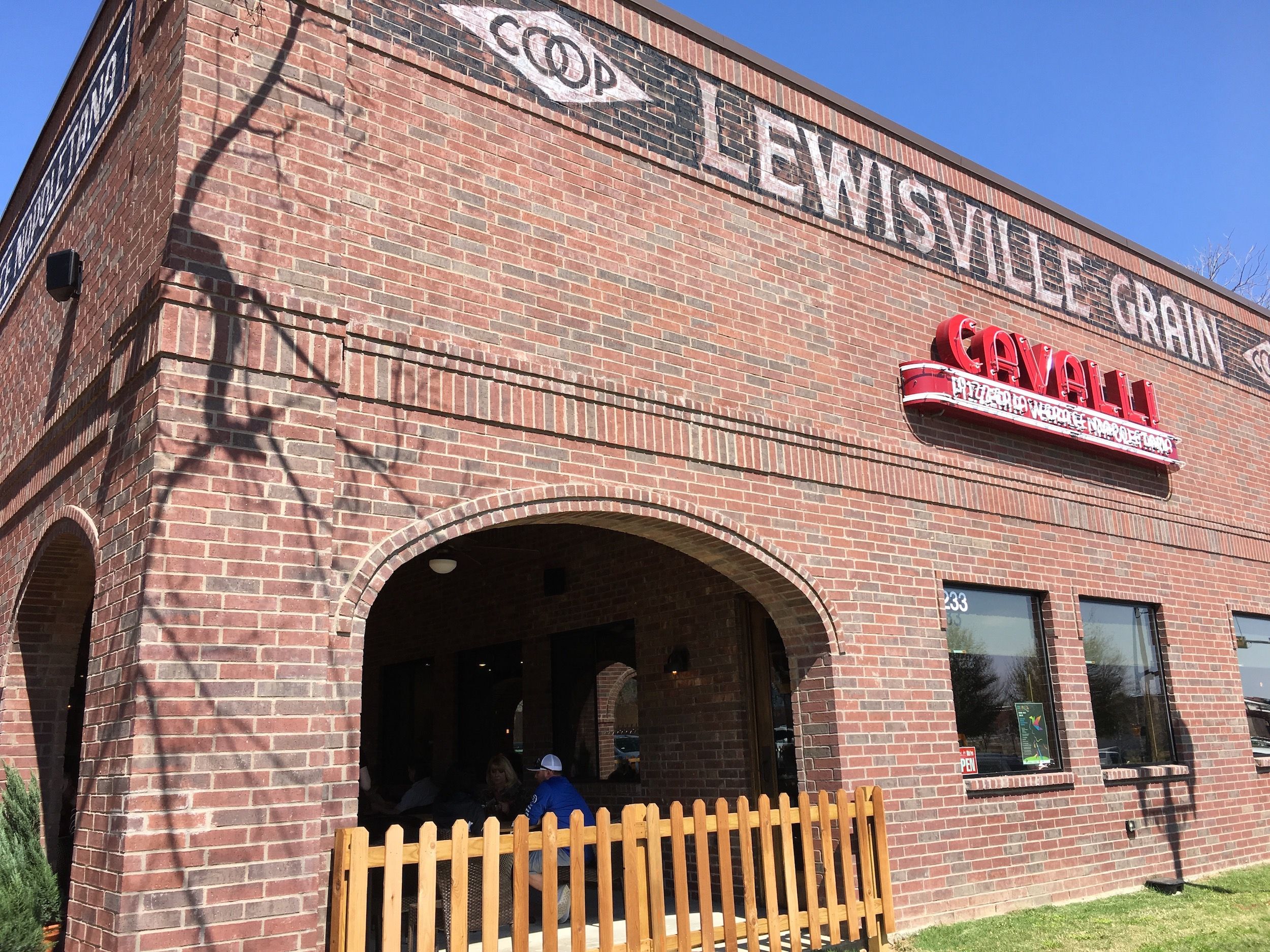 This week we visited the new Cavalli Pizza, a true Neapolitan-style restaurant founded by a family of first generation Italian Americans. Cavalli uses only the freshest and most authentic ingredients to prepare each of their dishes. They even import the flour for their pizza dough from Italy!
The location in Lewisville is their third here in DFW, and while the menu remains mostly the same across all three locations, they do offer some unique menu options at each location. For example, all of the cocktails at the Lewisville location are unique to that location and are hand-crafted by their house sommelier and owner.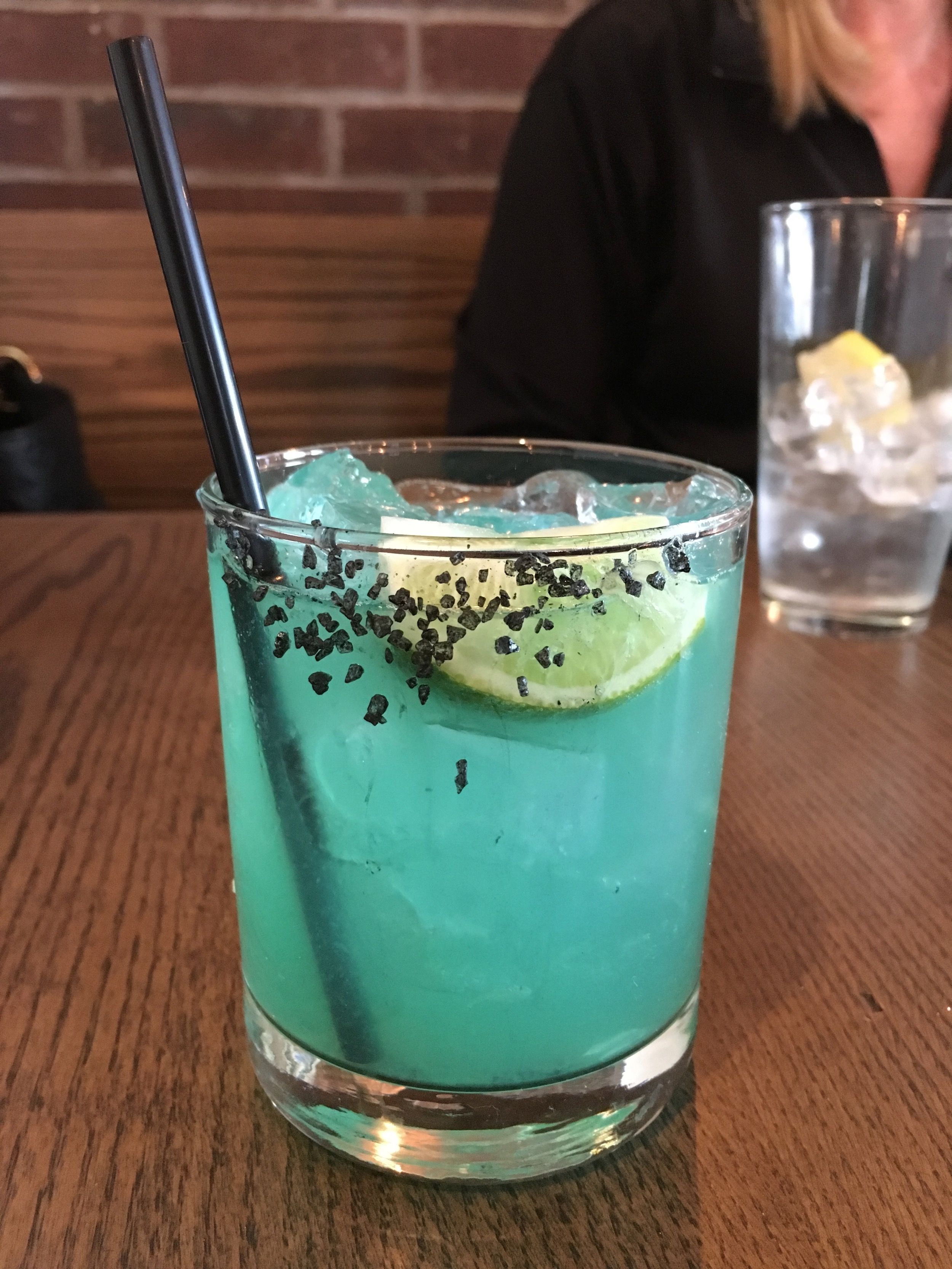 We ordered their Italian version of a margarita - the Diavolo Azzuro - which is a beautiful bright blue color and comes served with volcanic salt.
In addition to their wonderful cocktail menu, Cavalli also has a great selection of beers and 28 wines ON TAP. Yes, you read that correctly. Imagine a back room of a bar filled with beer kegs, but instead of beer, the kegs are filled with wine. They pride themselves on their fantastic selection, and it's not difficult to see why!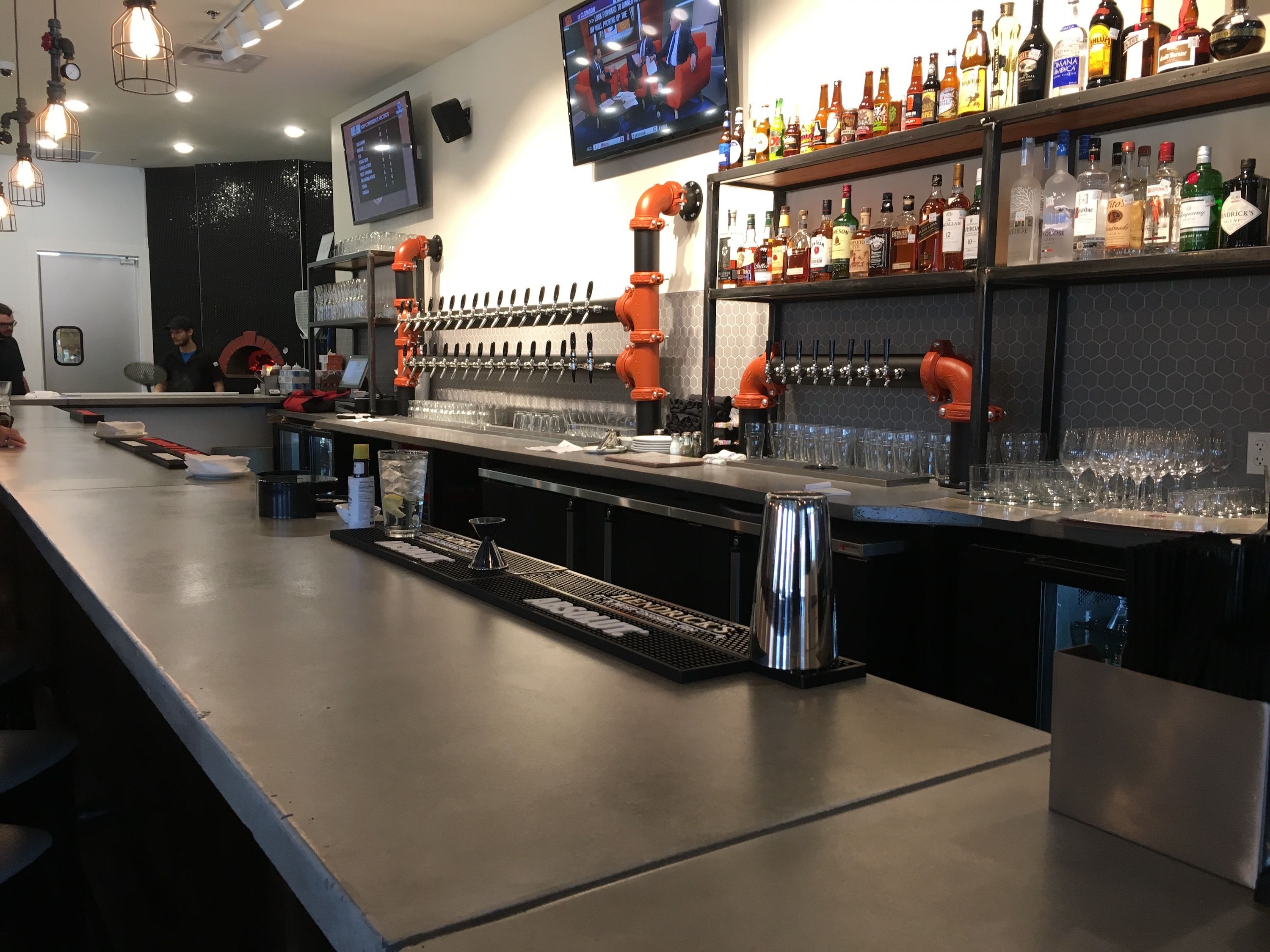 They've also created a Lewisville Salad for the new location which comes topped with pepperoncini, salamino, garbanzo, provolone and an oregano vinaigrette.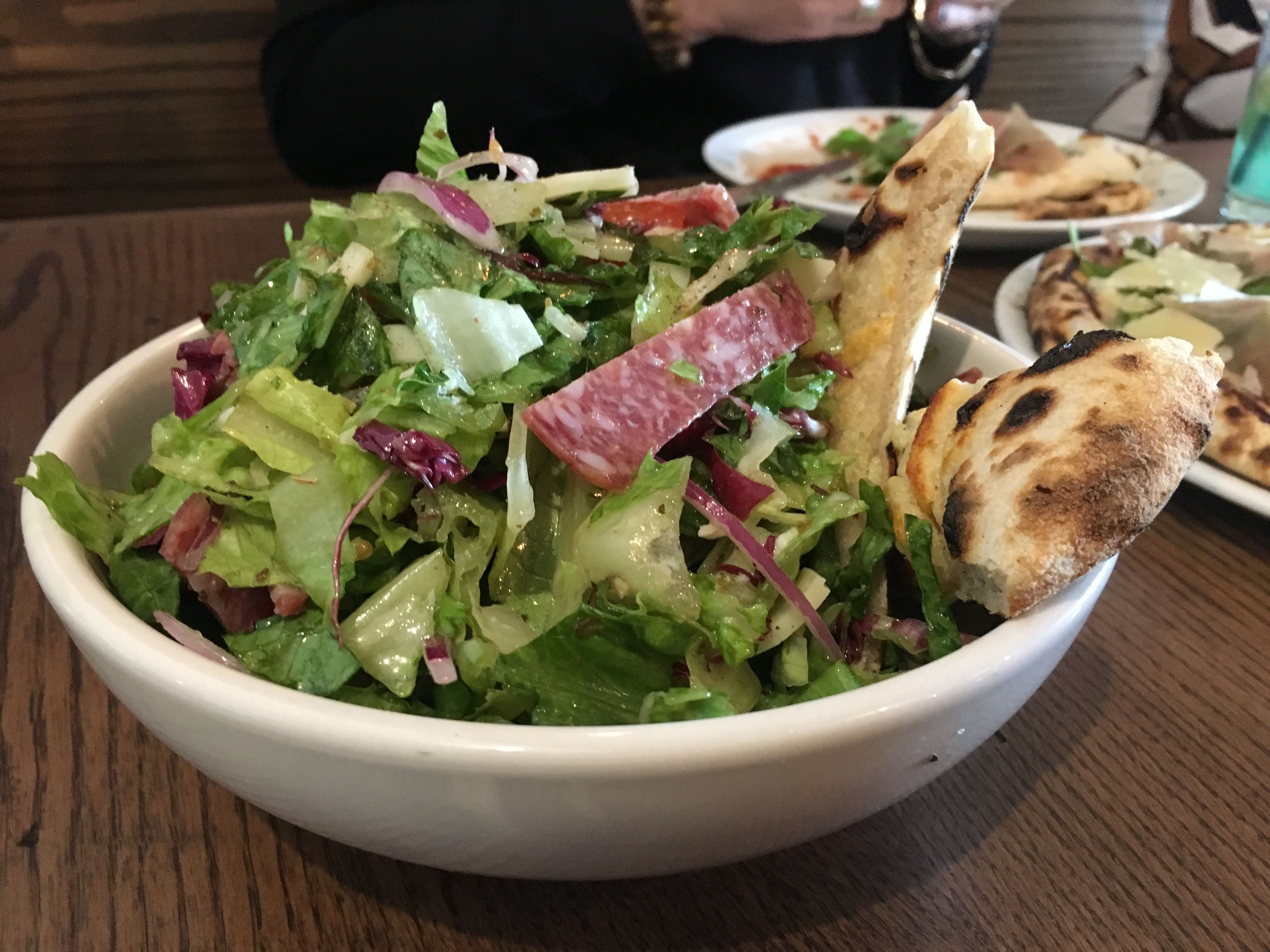 Before getting to the main course, we sampled a few of their Antipasti options including their Focaccia, the Arancini and their Mozzarella Fritta. My absolute favorite was the Arancini - they're like fried rice balls stuffed with bacon and mozzarella and smothered in a jalapeno cream. And their fresh marinara that comes served on the side is incredible as well.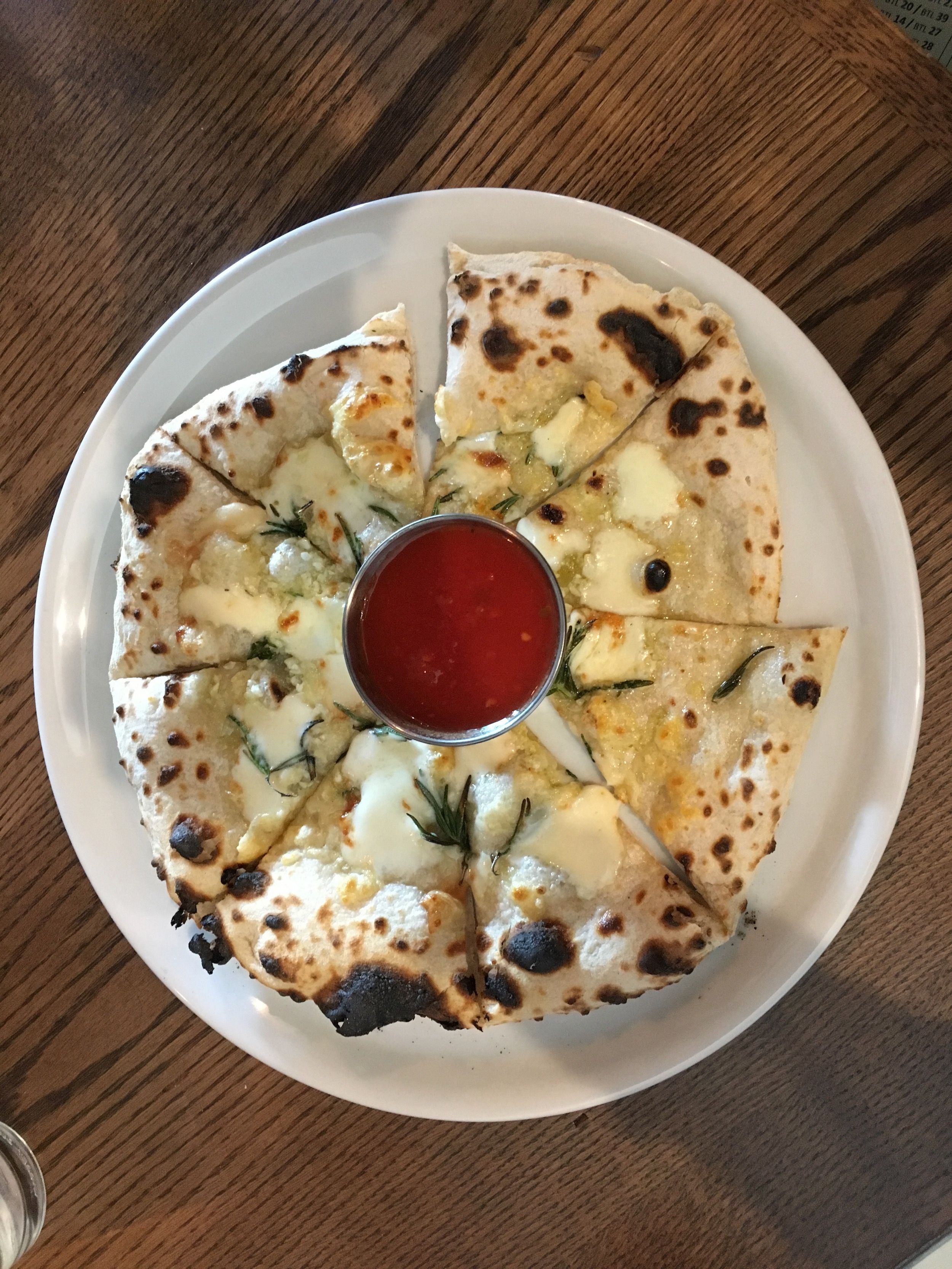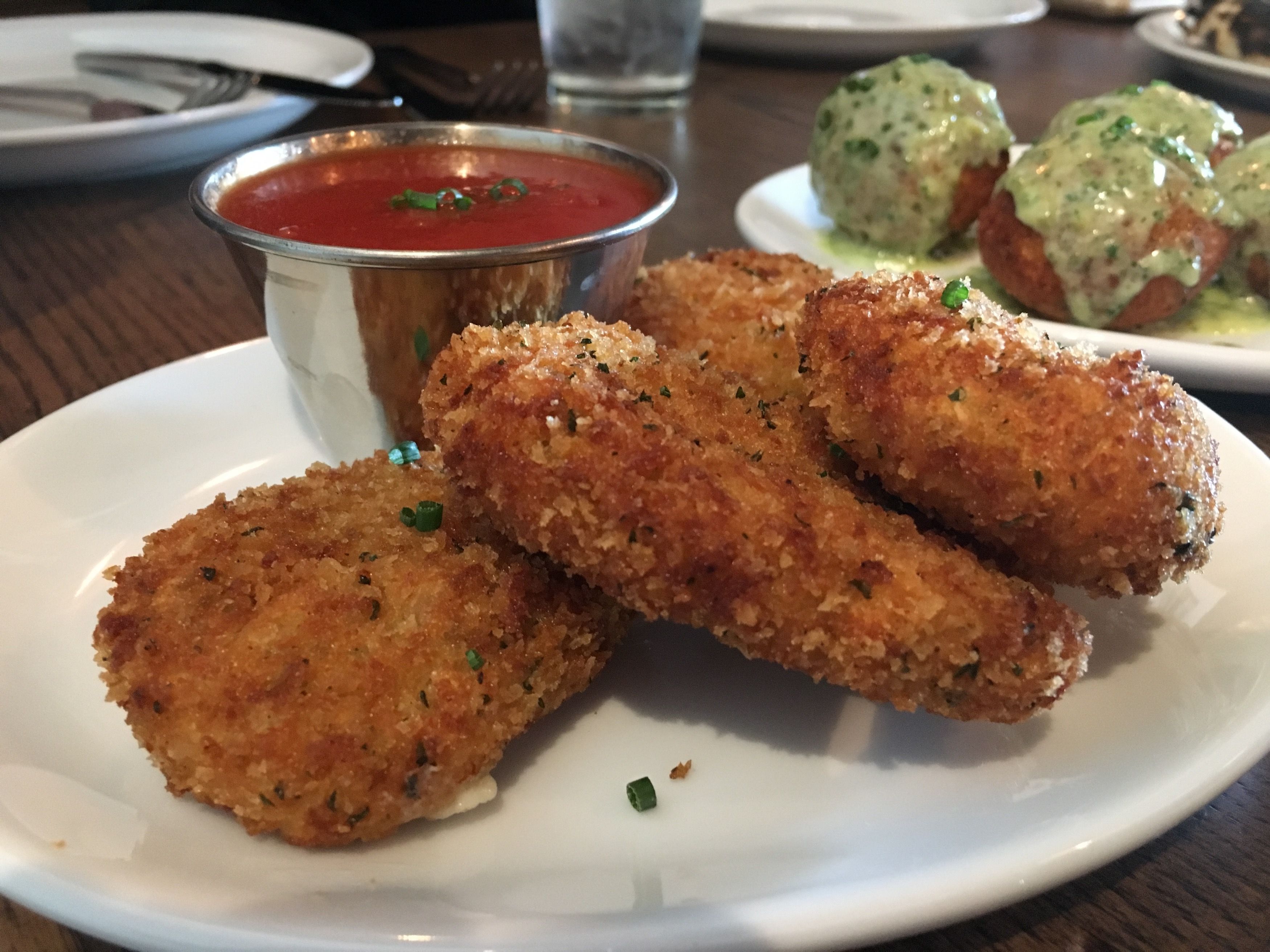 But what Cavalli is obviously best known for is their incredible wood-fired Neapolitan pizza. Each of their pizzas are baked in a wood burning oven at 900 degrees for about 90 seconds - just as traditional pizzas in Naples are prepared. They are topped with the finest of ingredients including housemade mozzarella and authentic San Marzano tomatoes. And they have a pizza option for you no matter what kind of pizza you prefer.
We ordered 4 of their pizzas to give you a good idea of what their menu includes.
The Salamino e Funghi is a tomato sauce pizza which comes topped with some of their house mozzarella, salamino, mushrooms, smoked mozzarella, garlic and basil.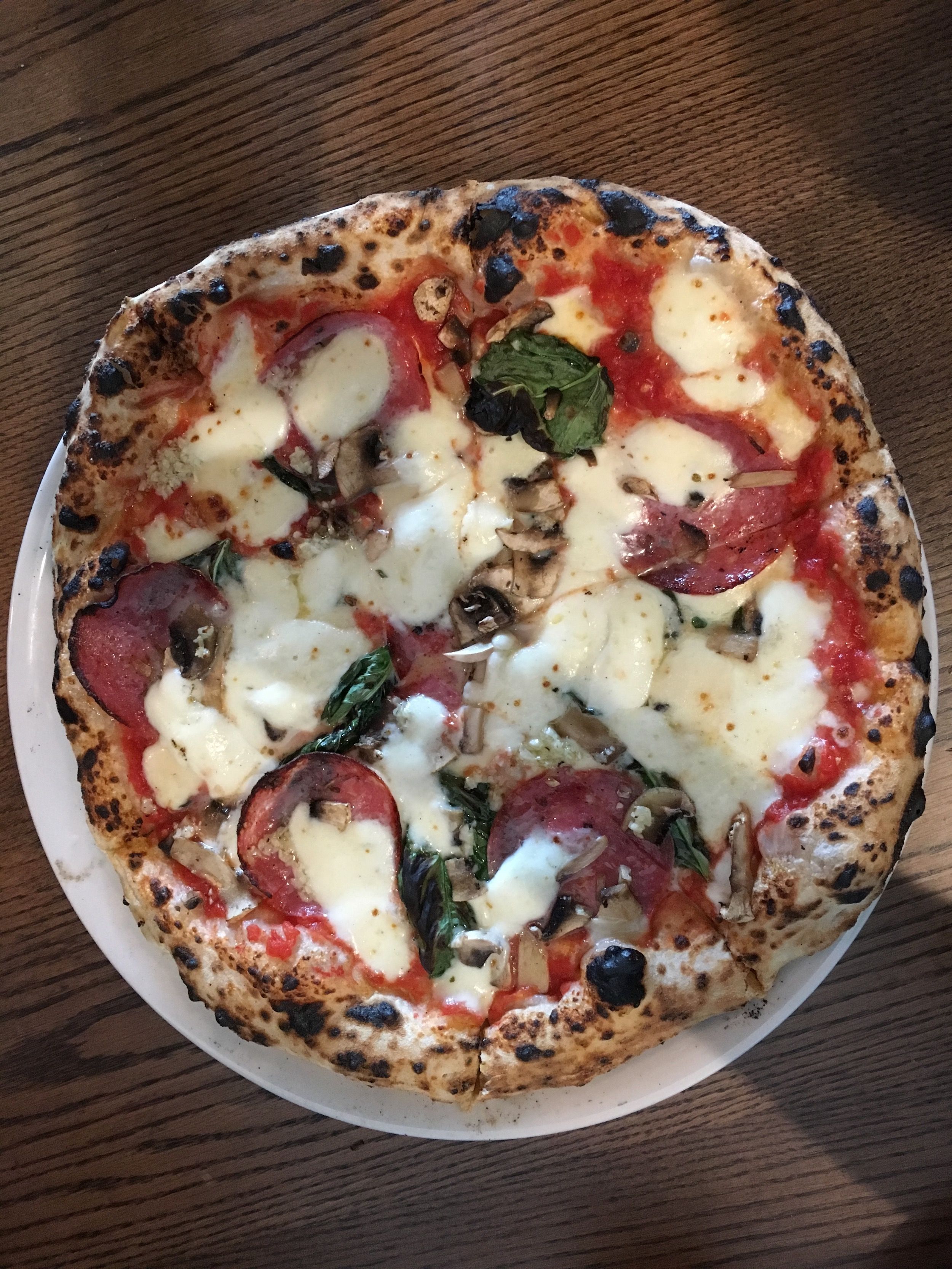 The Pesto Chicken is a great option for those of you who don't like red sauce pizzas. It comes topped with their pesto, house mozzarella, ricotta, and grilled chicken.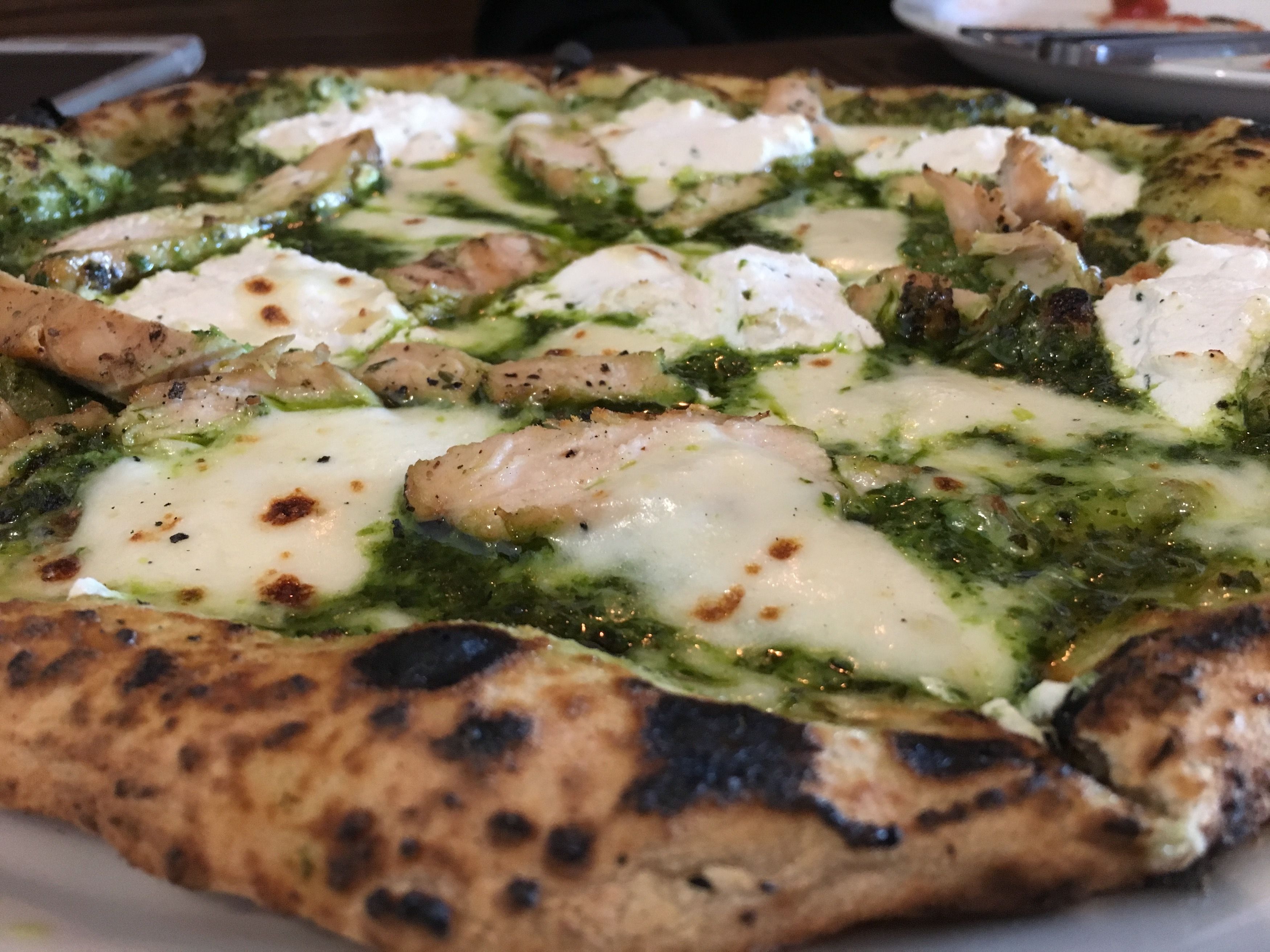 For all you meat-lovers out there, The Dallas is the pizza for you. It comes topped with meatball, sausage, pepperoni and their house mozzarella.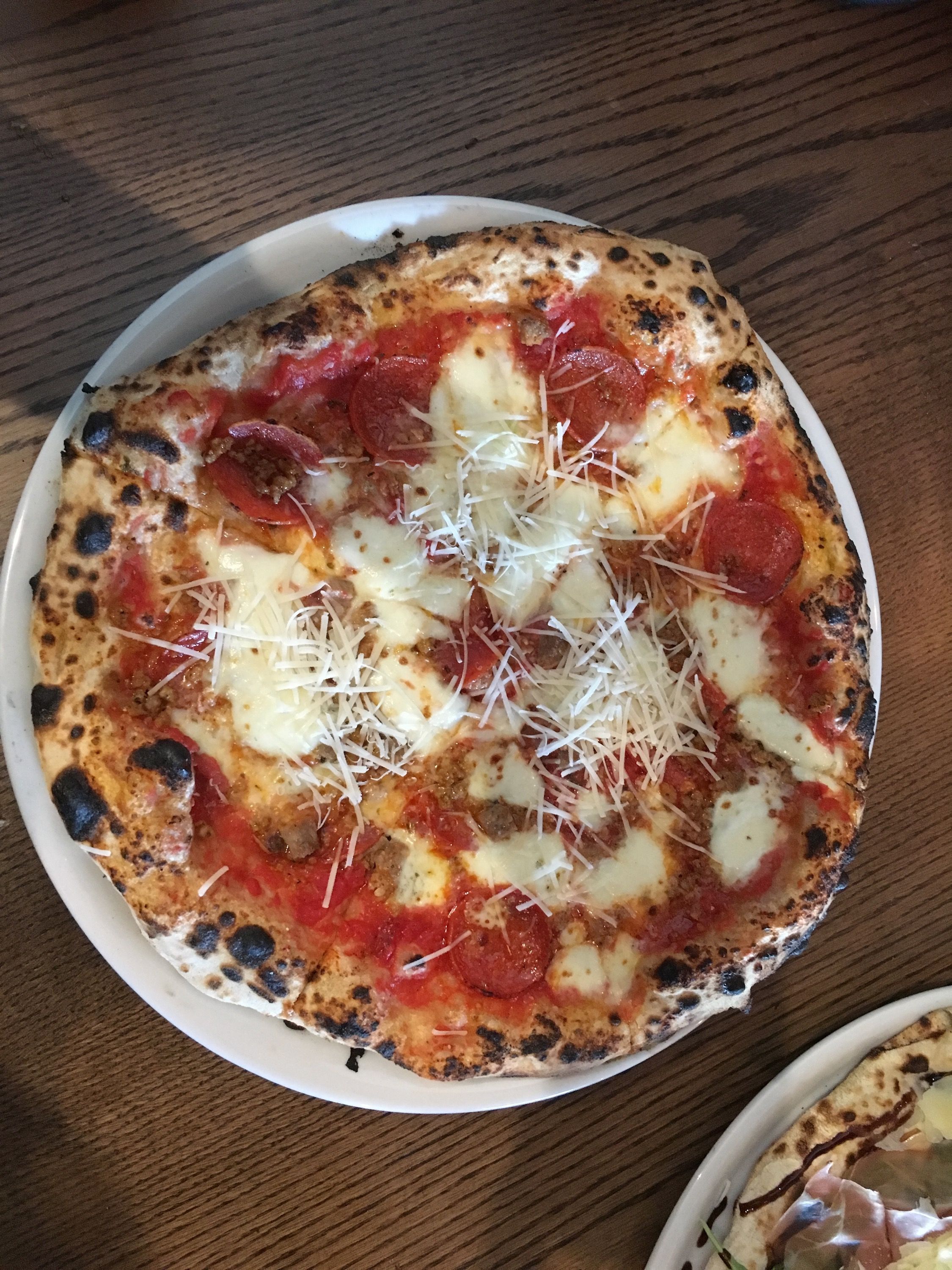 And the Arugula & Prosciutto is a wonderfully refreshing take on a Neapolitan pizza. The crust is cooked and then is cooled a little before topping it with fresh arugula and prosciutto. So you still get the warm crust, but with fresh (not wilted) arugula.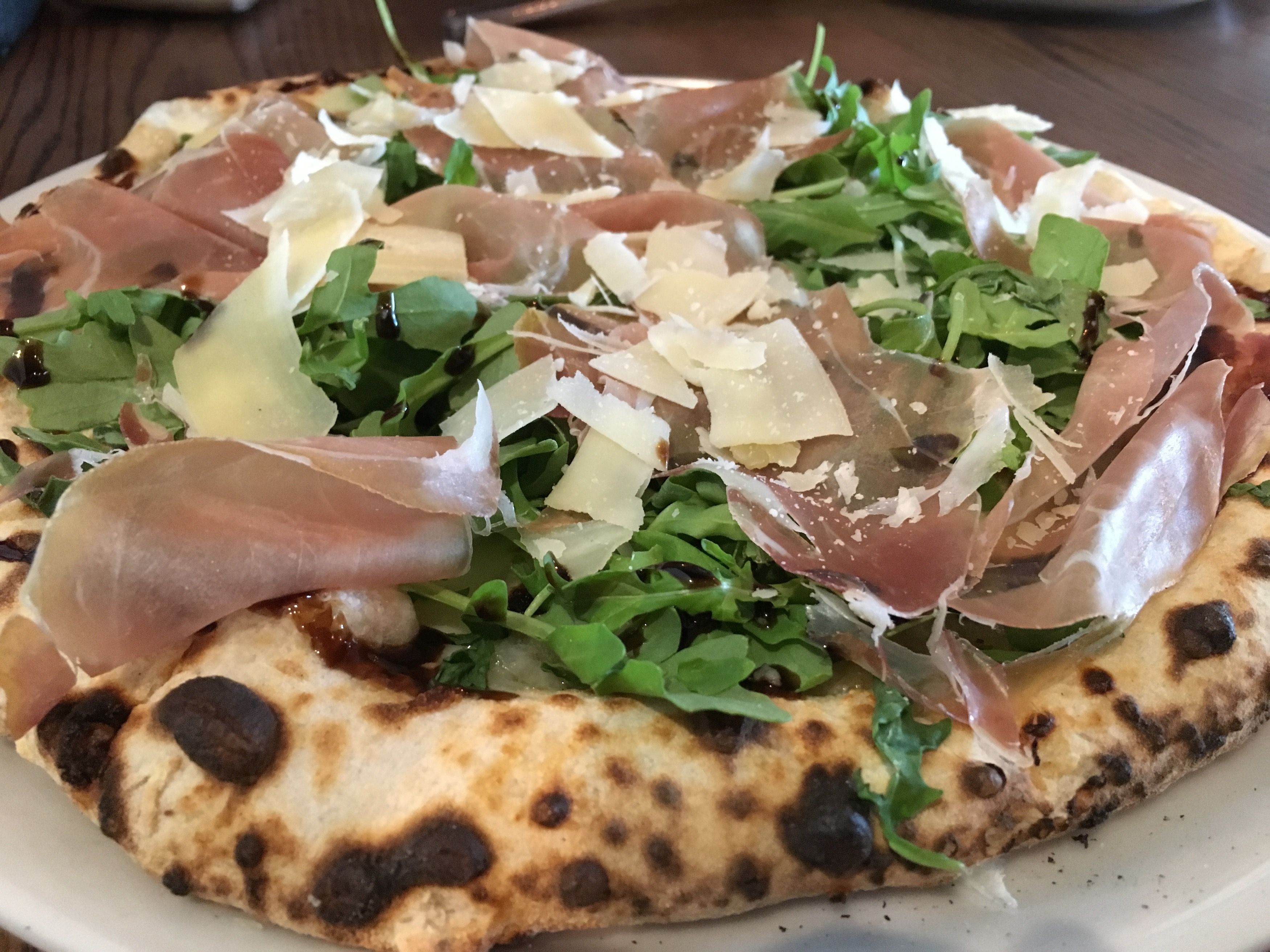 And after all that, we still managed to find room to try one of their desserts. There were so many wonderful options to choose from like their Zeppole (Italian donuts), Nutella Pizza, and S'mores Pizza... but ultimately we decided to try their Lemon Tiramisu which was INCREDIBLE. If you are a fan of lemon-flavored desserts, this is your new soulmate. It's like a traditional tiramisu in that it's layered, but the layers consist of mascarpone, lemon curd, ladyfingers and limoncello.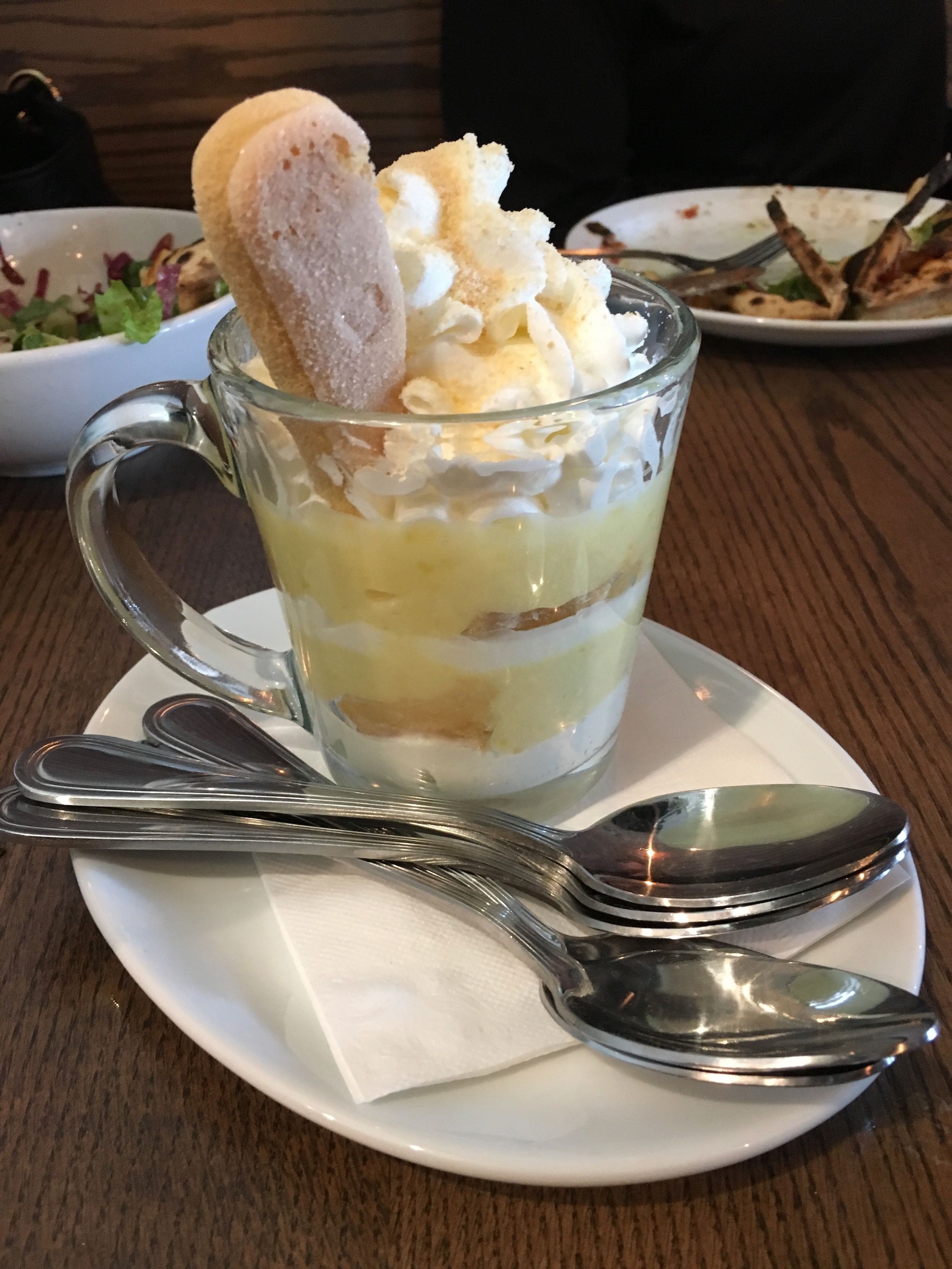 We truly are so excited to see Old Town Lewisville go through a revitalization, and are thrilled to now have restaurants like Cavalli Pizza so close to home. Be forewarned that with the opening of this restaurant as well as Twisted Root, this area of Old Town Lewisville could get quite congested this weekend. But we promise, this place is worth it!
*Cavalli Pizza in Lewisville is located at 233 W Church St.