Jay Around Town: 30th Annual Highland Village Balloon Festival
This weekend is a big one in Highland Village as they celebrate their 30th Annual Balloon Festival put on by the Highland Village Lions Club. This event has been a fixture in our local community for the last three decades and is one I look forward to every year!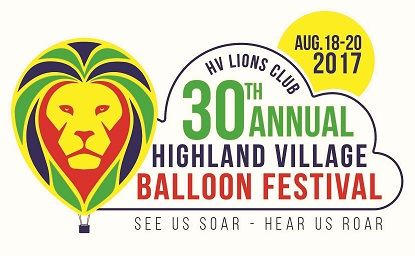 The Balloon Festival takes place at Unity Park from Friday, August 18-Sunday, August 20, with the Opening Ceremony happening at 6:30pm on Friday and the gates closing on Sunday at noon.
There will be all kinds of activities all weekend long including a food court, live music, car show, arts and crafts, and a Kids Zone.
Most importantly though, there will also be tethered balloon rides throughout the weekend and a nightly balloon glow from 8:30-9:00pm.
The best part of it all? Admission to the event is FREE! They just ask for a $5 donation for parking.
The weather is supposed to be great this weekend, so take the whole family out to celebrate the end of summer at this year's Highland Village Balloon Festival! Maybe I'll see you there!
For the full schedule of events and more information about the Balloon Festival, click here.