Q&A With Jay: The Mortgage Process
Well, everyone. I did it. My first official Facebook Live on the Jay Marks Real Estate business page! We sat down with one of our preferred lenders, Ryan Grubbs with Mid America Mortgage to answer some of your questions and questions we commonly get asked about the mortgage and home-buying process.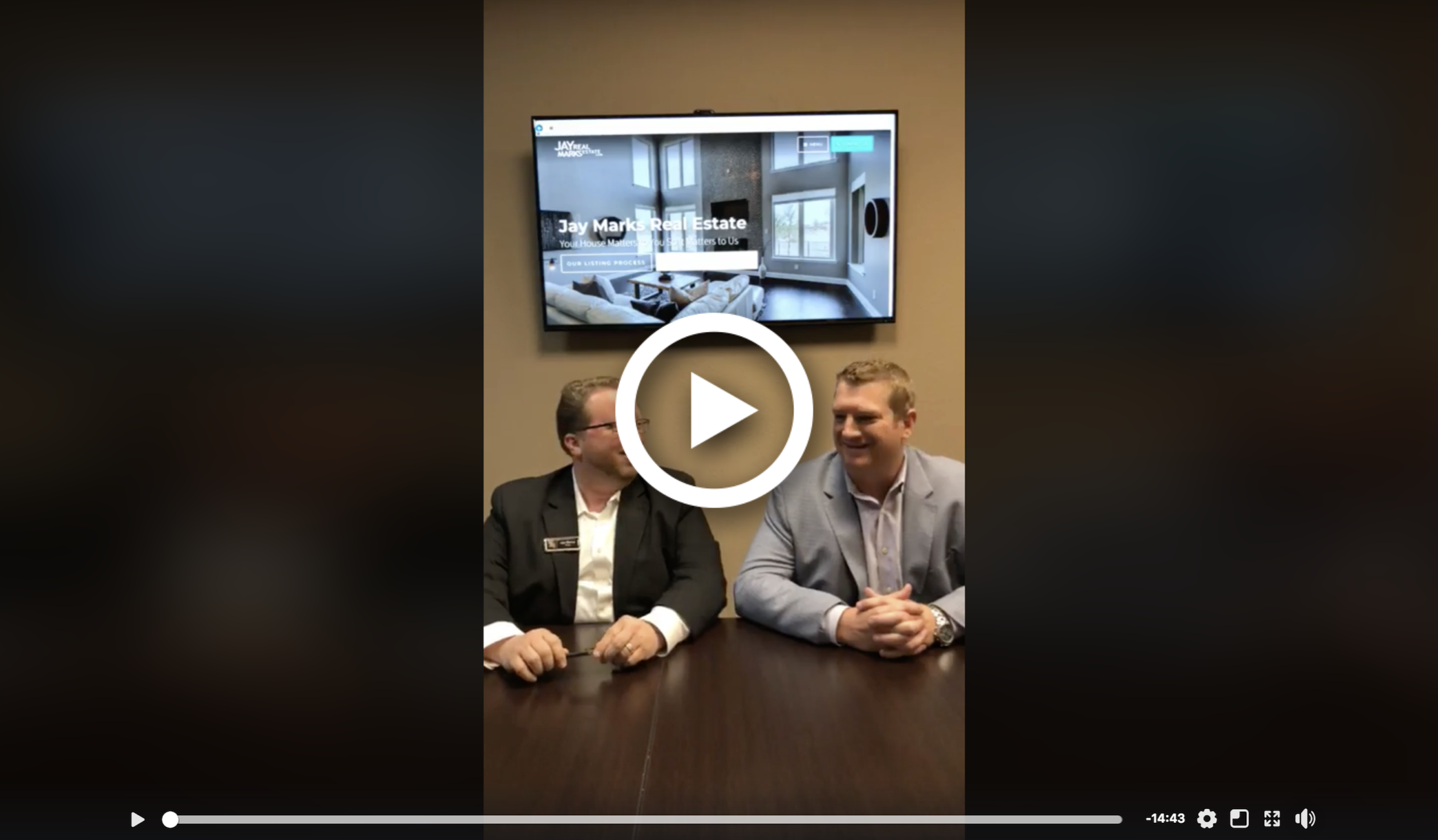 Click here to watch our full Facebook Live Q&A session.
But I've also recapped the major questions we answered below.
If you're ready to start talking about buying a home, buying investment property, or refinancing, we'd love to talk to you about how we and our preferred lender partners like Ryan can help!
---
#1: What is the difference between working with a local mortgage lender vs. working with a national bank?
As a Realtor, it usually makes our job easier to keep track of where your loan is at when working with a local mortgage lender. We have built-in relationships with them. And when a big issue comes up, they're just a few minutes down the road. But what does working with a local mortgage officer versus working with a larger mortgage company mean for you?
You may find your dream home when out looking with us on a Saturday or Sunday and we need to contact your loan officer right away. National banks are closed on the weekends. But a locally-based loan officer will typically always make themselves available to get us pre-approval letters, talk to the listing agent, etc. Those are things that can make a BIG difference, especially when in a multiple-offer situation.
#2: What's the buyer experience like when working with a local lender like Mid America Mortgage?
From the very beginning they'll be available to help answer any questions you have about buying a home, as well as gathering all the documents you'll need to submit for the loan underwriting and approval. Once you go under contract, they'll continue to help with all the various steps before closing. They have metrics in place that make sure they meet all the necessary deadlines on time, which means you'll close on time.
While there are certain team members assigned to specific roles, they are all available at all times to answer your questions and help with anything you need. They are there to help you achieve your goal of buying a home.
#3: What should I anticipate in terms of closing costs when buying a home?
Every situation is going to be unique and different, so your mortgage officer will want to sit down and have a conversation with you about what you specifically can expect to pay in terms of closing costs. There are various terms in the contract that can be negotiated whether the seller or the buyer will pay.
But as a general rule of them, you can expect somewhere around 2-3%.
#4: As a lender, what are the biggest mistakes you see a buyer make during the home-buying process?
More than anything else, lenders see buyers who are in no rush to get them the required documents because they think they have plenty of time. When your lender asks you for documents, it's important to get those to them as soon as you can! They want to get your loan approved as soon as possible. And the quicker they have everything from you, the quicker they can have everything ready for closing so no one is scrambling the day before closing is supposed to happen.
Also, DON'T GO SHOPPING WHILE YOU ARE UNDER CONTRACT! I mean, you can go buy groceries, but don't go buy a new car, or furniture, or a jacuzzi hot tub for your . new house. We saw this happen with a buyer at the end of last year and they actually had to re-submit the loan for approval and their PMI ended up increasing because of their purchases. So, wait until after everything is closed and funded to go shopping!
As some general rules of thumb... don't open any new credit cards. Don't significant increase your credit card balances. And definitely do not quit your job! Just don't change anything with your financial situation while going through the mortgage process. They see everything!
#5: There have been some changes in mortgage laws within the last couple of years. What are they?
One of the biggest ones here in Texas is regarding Texas Home Equity Refinances. We used to say, "Once a home equity, always a home equity." But not any more. Typically home equity loans have higher rates and fees than other loans, and you used to be stuck with that. But now you can refinance and not be subject to those higher rates and fees.
There are also some new tax laws regarding home loan interest, etc. The new law caps the deduction at $10,000. That just makes it more important when looking for a house to talk with your loan officer and your CPA about interest, property taxes, etc. so you're aware of how much you'll be able to deduct on your taxes.
#6: I already own a home, but I'm interested in purchasing investment property. How is it different from buying my personal home?
Buying investment property is a little different than buying a primary residence because in the eyes of your lender, it's a higher-risk transaction. Because of that, you have to put a minimum of 15% down on investment purchases. There are also some stricter credit requirements and you have to be able to show that you have money in the bank to cover the mortgage (of both the rental property and your primary home) in the case that you ever do not have a tenant paying rent.
#7: I think I'm ready to buy a home. What should I do first?
If you already have a lender, call them and let them know you're looking to buy so you can discuss financing options and what your purchasing budget is. Most lenders also have an online loan application you can fill out which lets them know you're ready to have a conversation about buying. Then be sure to call us so we can start looking for houses that meet your needs and your budget!
If you don't have a lender you like, we do!! Give us a call and we'll let you know who you should talk to regarding your financing needs.
Call Us At 972.724.2540
RELATED CONTENT