Restaurants Offering Catered and Dine-In Easter Meals
3634 Long Prairie Rd, Ste 100, Flower Mound TX 75028
This year Swirl Bakery is offering Easter meal options that you can either serve at-home or enjoy in the restaurant. For catering options, they have complete Easter dinners, spiral hams, sides, breakfast items, and desserts! Catering orders must be placed by March 31, 2021 and can be placed in the restaurant or by calling 214-513-1334.
Or you can dine-in with them on Easter Sunday from 8:00am-2:00pm where they'll have an Easter Plate Special with spiral ham, au gratin potatoes, glazed carrots, and a slice of carrot cake!

2664 FM 407 East, Bartonville TX 76226
Marty B's is offering Easter catering again this year with options like Smoked Prime Rib, Bone-In Smoked Ham, Green Chile Mac 'n Cheese, Street Corn, and their Best Ever Carrot Cake.
You can place your order on their website and orders must be received by noon on March 29, 2021.

2300 Highland Village Rd, Highland Village TX 75077
No matter whether you want to enjoy an Easter meal at-home or in the restaurant, Bistecca has you covered this year! They're offering their Easter buffet for you to enjoy at home or you can make a reservation for their Easter Brunch from 11:00am-2:00pm on Easter Sunday.
Both options include favorites like their Duck Salad, Squash Casserole, and Chocolate Ganache Cake.
Call 972-318-0515 to either make your reservation or place your catering order!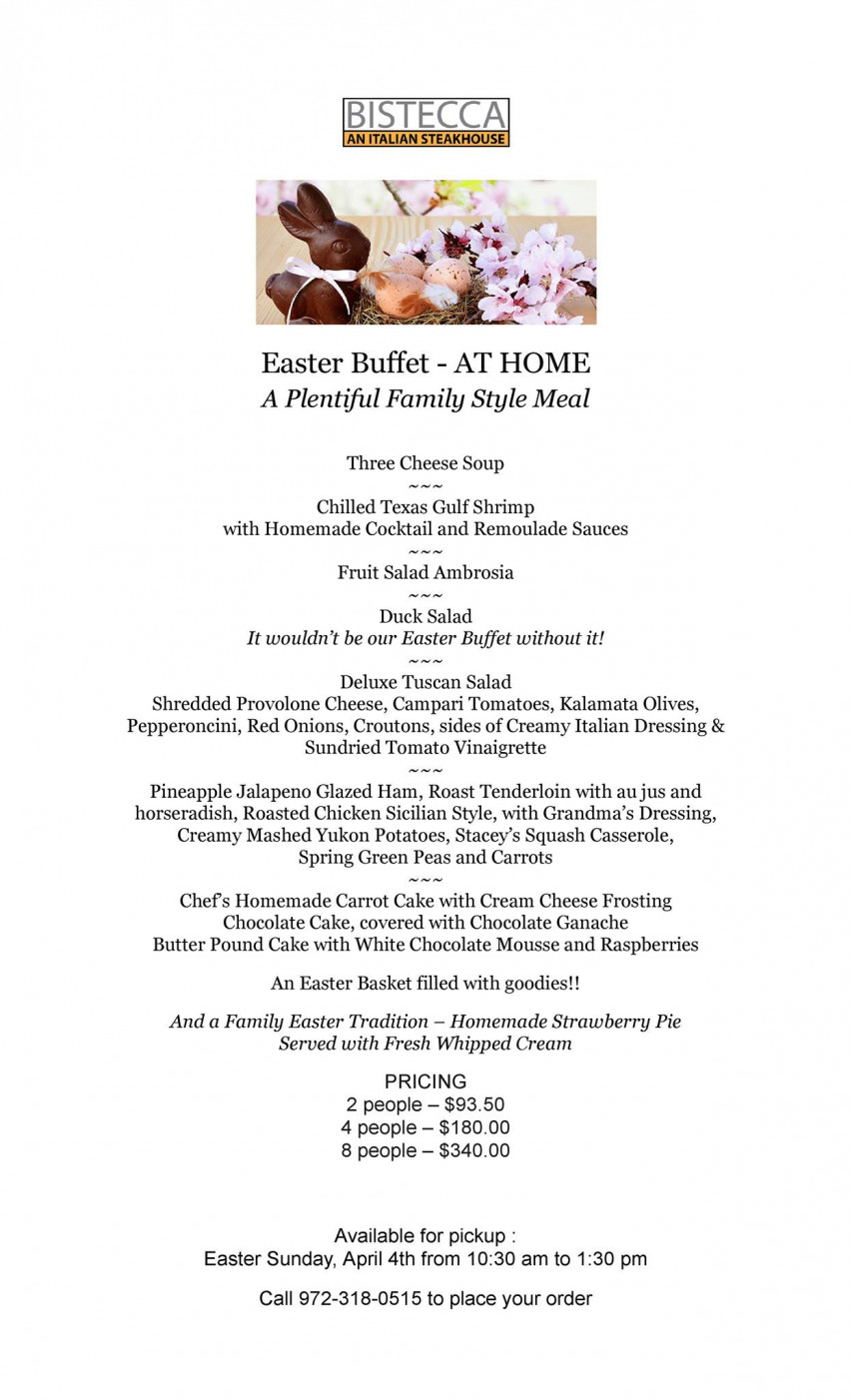 890 Parker Sq, Flower Mound TX 75028
Yellow Rose is offering a scrumptious-sounding Easter feast this year complete with Beef Tenderloin Soup, Slow Roasted Prime Rib, mashed potatoes, and bread pudding for dessert.
Orders must be placed by April 1, 2021 and can be picked up on Saturday, April 3, 2021. Call 972-899-9820 to reserve yours!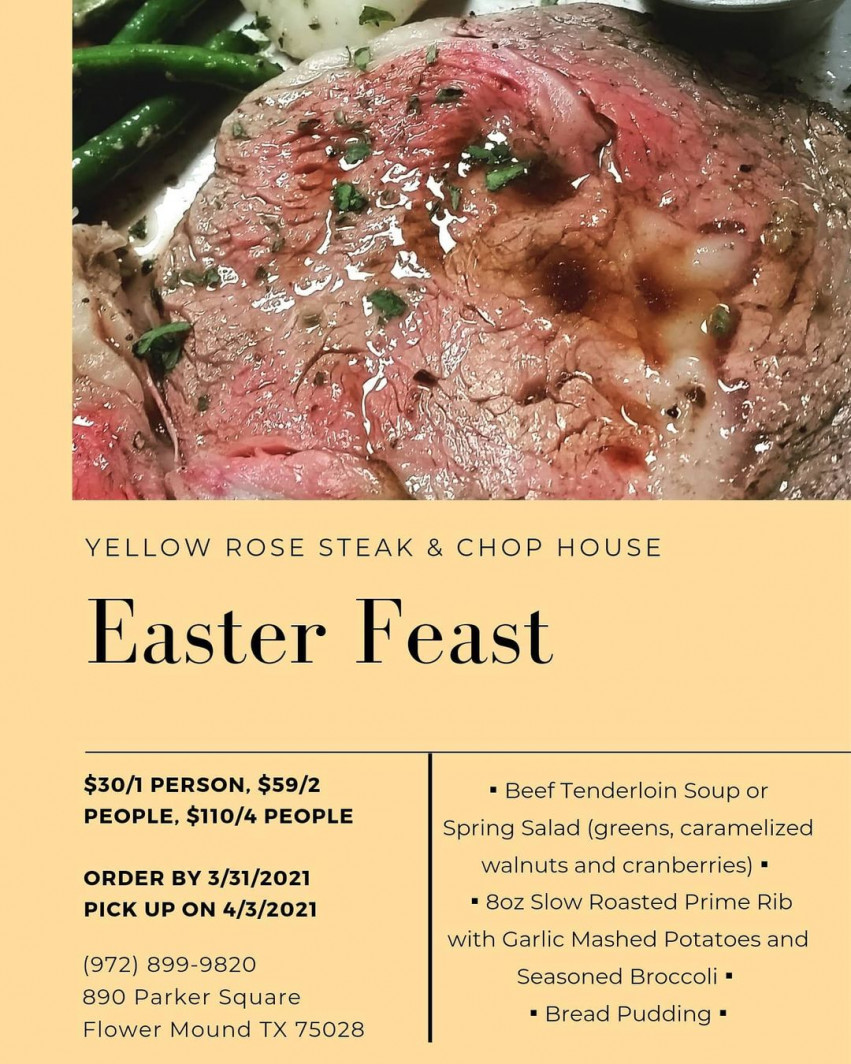 2250 FM 407 Suite 130, Highland Village TX 75077
Salerno's is another restaurant that has become well-known for its Easter buffet over the years. This year you can enjoy the 5-course meal at home or in the restaurant. You'll have your choice of appetizer, soup, salad, and entrees and sides like ham, lobster mac 'n cheese, garlic parmesan mashed potatoes, and a raspberry cheesecake for dessert.
If you're ordering to enjoy at home, orders must be placed by Friday, April 2, 2021. You can email it to [email protected].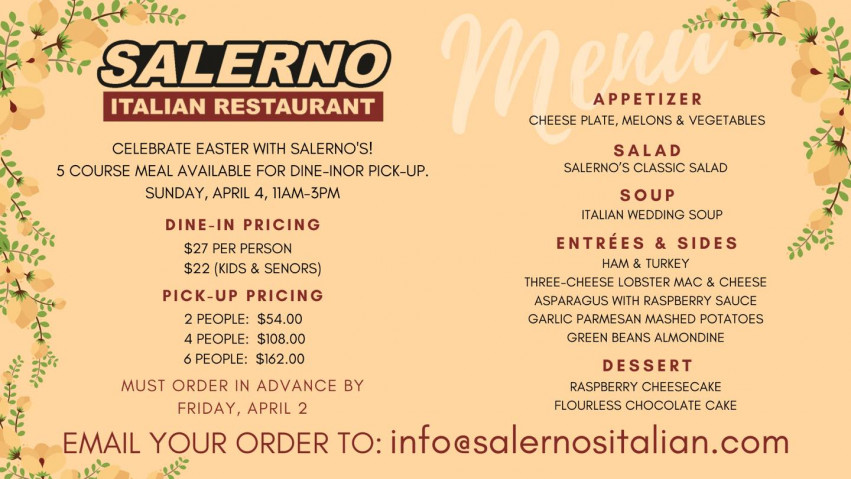 2221 Justin Road 101, Flower Mound TX 75028
Verf's is currently taking reservations for their Easter Brunch on Sunday, April 4, 2021 from 9:30am-2:30pm. Brunch items you'll find include Smoked Pulled Pork, Eggs Benedict, Pecan Crusted French Toast, Smoked Salmon, and Fresh-Baked assorted pastries.
Call 972-317-3390 to make your reservation!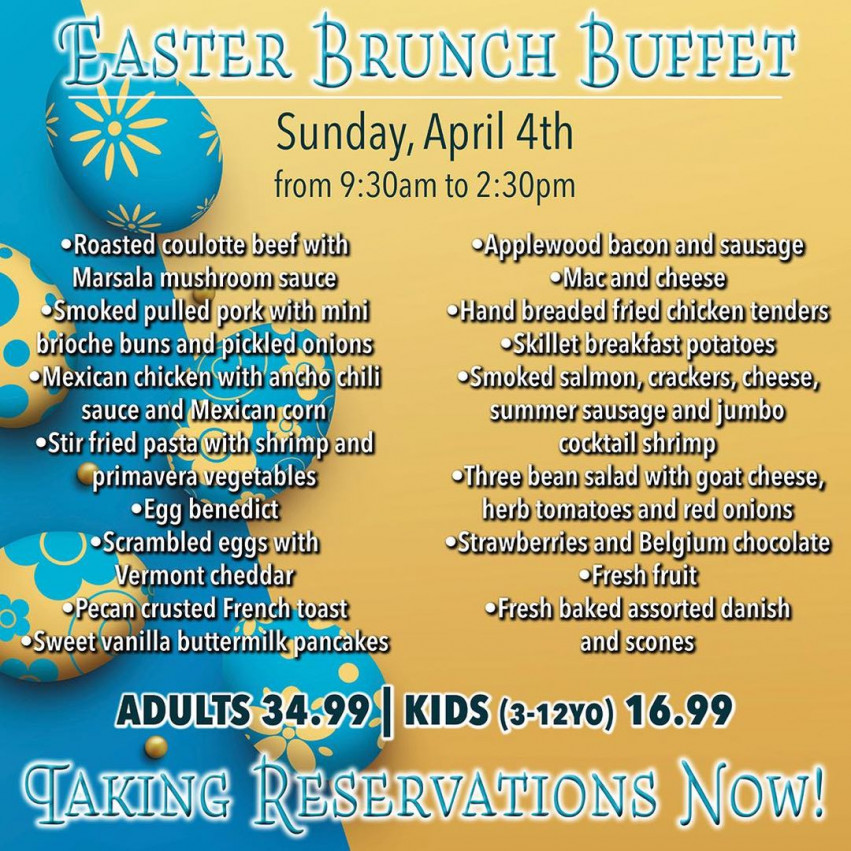 1701 Shoal Creek, Highland Village TX 75077
Shoal Creek Tavern is also hosting an Easter Brunch on Sunday, April 4, 2021 from 9:0am-2:30pm. They'll be serving Prime Rib, Pork Tenderloin, Chicken and Waffles, Caramelized Banana French Toast, Salmon Cakes, and more!
Call 972-317-2250 to make your reservation!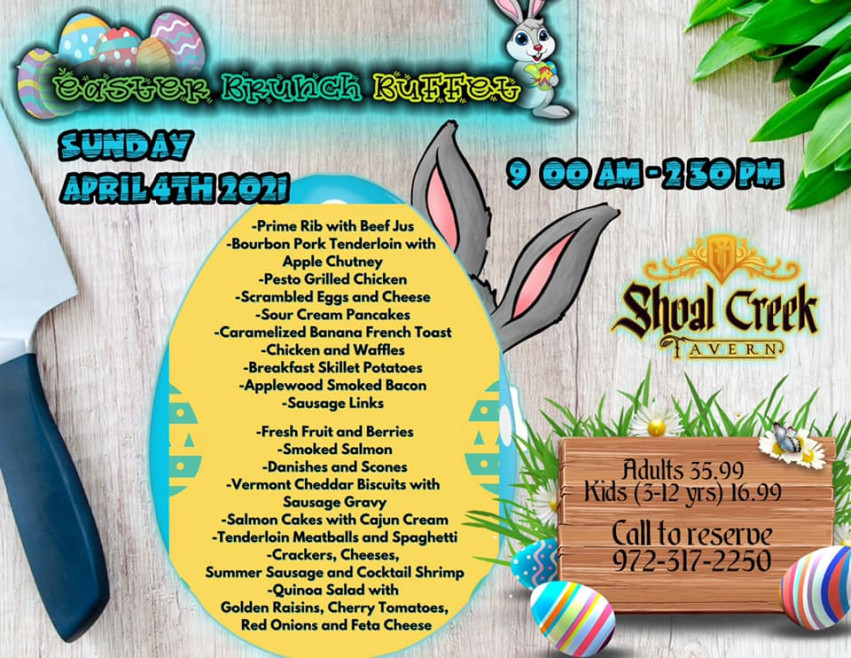 123 Chinn Chapel Rd, Double Oak TX 75077
Any time we're hosting people at our house, we love heading to Old Town Market to get our ingredients. They're currently taking orders for Easter with special items like Dry Cured Ham, Leg of Lamb, Lamb Racks, and Whole Rabbits.
Call 972-436-6742 to place your Easter order!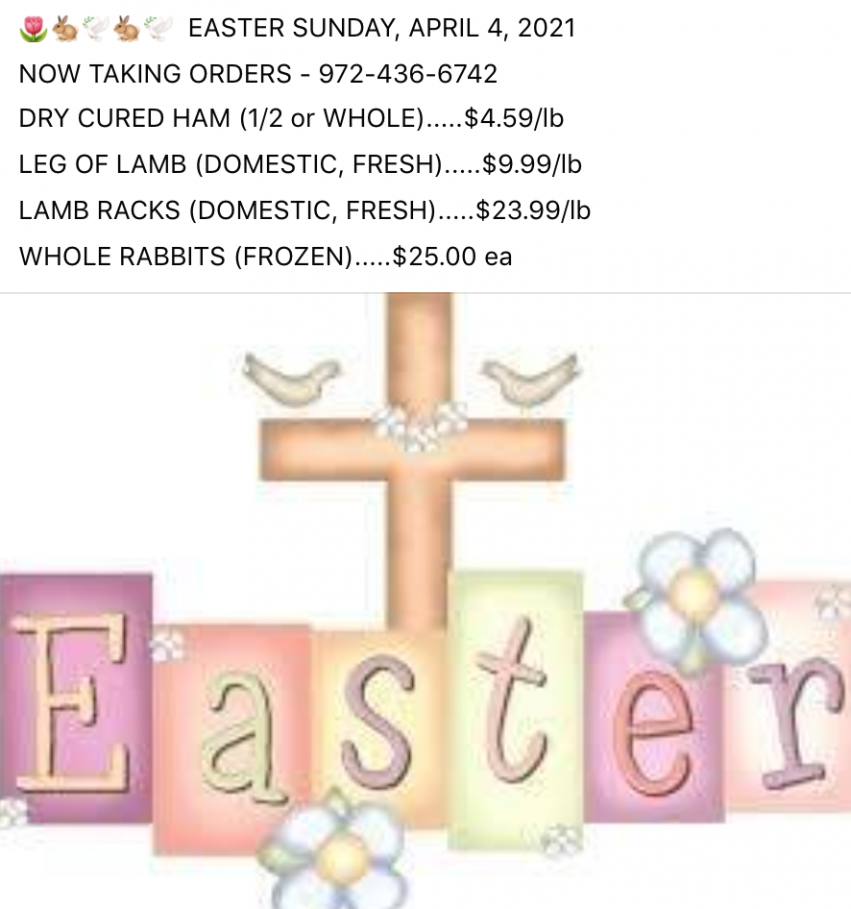 96 McMakin Rd., Bartonville TX 76226
The Bartonville Store is offering Easter meals to-go this year that will be available for pickup on Sunday, April 3, 2021.
You can choose between complete meals or a la carte items. And heating instructions will be included for everything you order!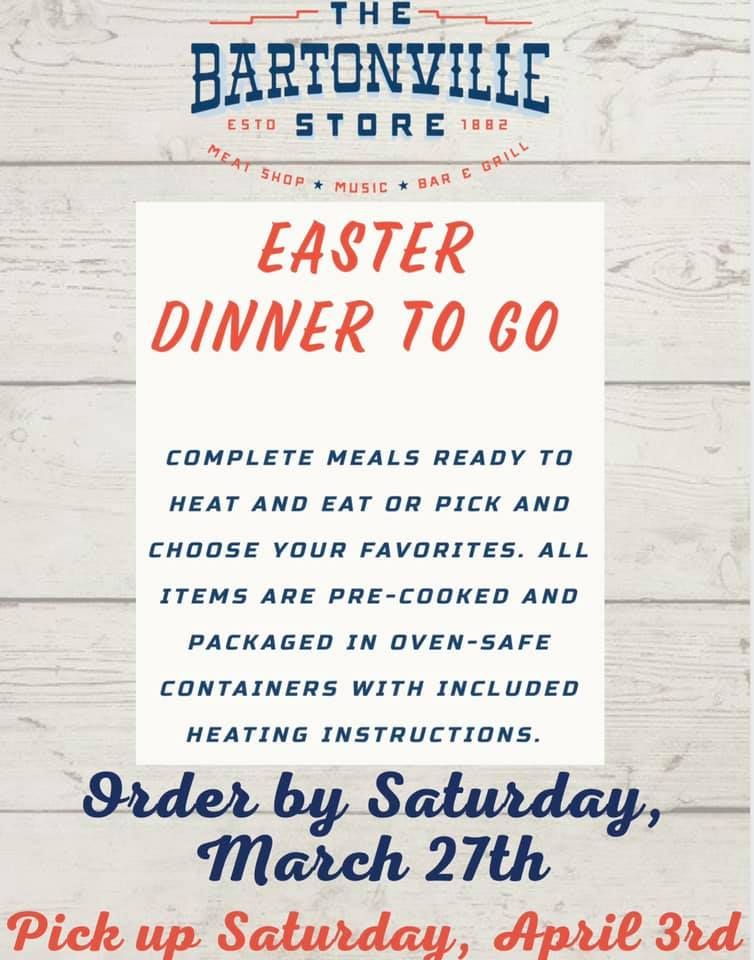 Buttermilk Sky Pie Shop
4610 Long Prairie Rd, Flower Mound TX 75028
Who doesn't love a good Easter pie? Buttermilk Sky Pie Shop has become one of our favorite places to pick up dessert for holidays since they opened at the end of last year.
Don't forget to place your Easter pie orders! Some of their current flavors include Southern Custard, Chocolate Cream, Peanut Butter, Lemon Ice Box, Coconut Cream, and (our favorite) their Key Lime.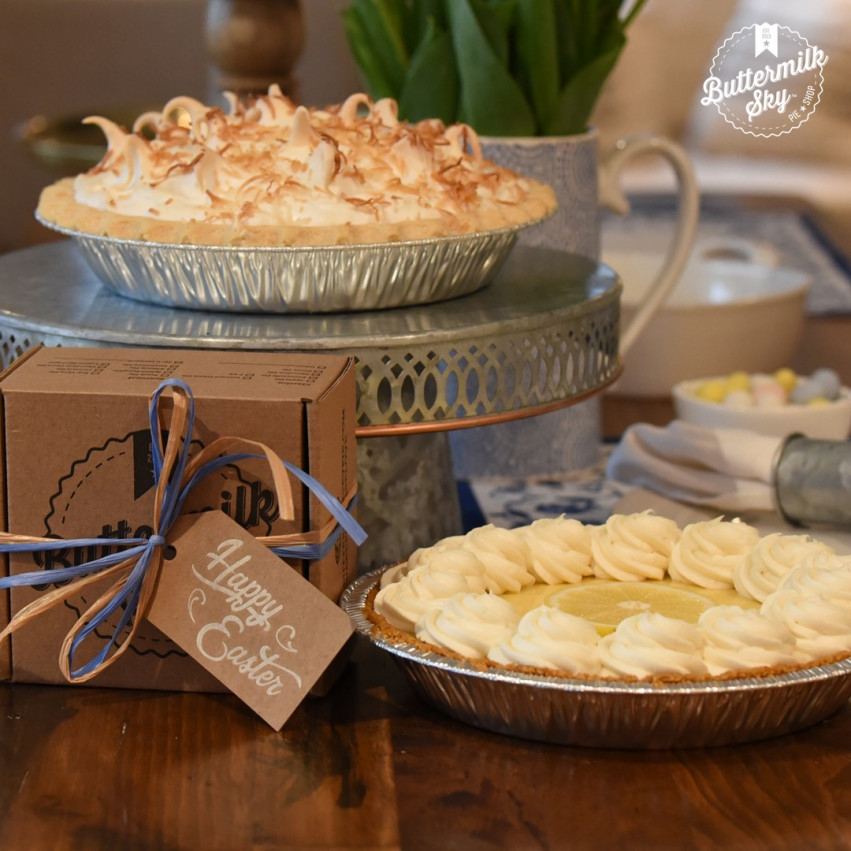 Cristy's Cake Shop
3721 Justin Rd, Flower Mound TX 75028
Cristy's Cake Shop has quickly become a local favorite since they opened. And with this being their first Easter open in Flower Mound, they've got some great options for you! Their fresh-baked Easter cakes are adorable! It's an 8-inch version of their signature Butter Cake decorated with basket-weave whipped cream and is filled with their pineapple filling.
Stop in to place your oder or call them at 214-513-2253.
Looking for More Delicious Places to Eat?
Watch our Foodie Friday DFW episodes for inspiration!
Watch Foodie Friday DFW