Foodie Friday DFW: Sip & Savor's New Menu Item
When it comes to dining in the Shops at Highland Village, few places can compare to the culinary delights that await at Sip + Savor. Known for their Northern California-inspired menu and incredible bar, this local gem has recently introduced a showstopper of a dish has already taken the dining scene by storm – the Double Bone Pork Chop. This delectable masterpiece undergoes a meticulous 36-hour preparation process that's a testament to the artistry of the kitchen.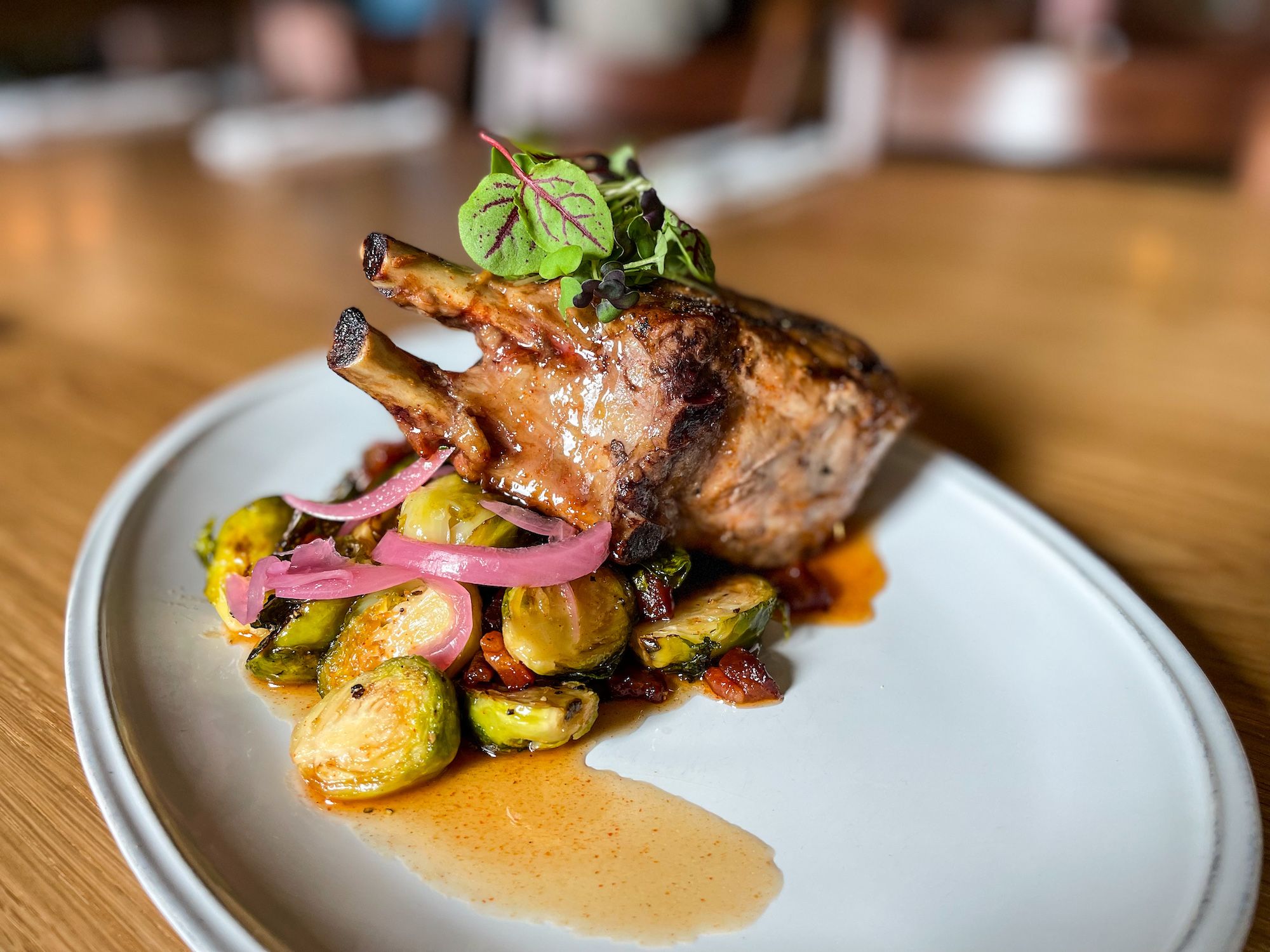 That 36-hour process all starts with a 12-hour brine - and here's where it gets interesting: the secret ingredient is Sip + Savor's very own peach ginger detox tea. This infusion not only imparts a subtle sweetness but also lends a distinct depth of flavor.
After the brine, the pork chop undergoes a 3-hour sous vide process, a technique which ensures that the meat is perfectly tender and succulent. Then, it's grilled to perfection and finished with a drizzle of hot honey, which adds a delightful, spicy-sweet kick that elevates the dish to new heights. But the pork chop isn't the only star on this plate...
As the pork chop caramelizes in the oven, Sip + Savor doesn't stop there. They roast Brussels sprouts to perfection, pairing them with bacon lardon, hot honey, and pickled red onion. The result is a symphony of flavors, with the caramelized sweetness of the pork chop beautifully contrasting the smoky richness of the bacon and the tang of the pickled red onion. The Brussels sprouts add a delightful crunch and earthiness, rounding out the dish in a harmonious manner.
In a word: "Flavor city!" This Double Bone Pork Chop is not to be missed. The incredible combination of flavors and the time and care invested in its preparation make it a must-try dish for anyone seeking a remarkable dining experience.
The addition of the Double Bone Pork Chop is just one of the many exciting changes at Sip + Savor. For wine enthusiasts, there's "Jenn's Stash," a unique menu you can enjoy all day every Monday. Owner Jenn handpicks select bottles of wine, which are available for half off. This is an excellent opportunity to explore a variety of wines and expand your palate.
Sip + Savor has also started hosting themed Soirees, providing an exciting twist to your dining experience. Whether it's a Spain theme or something entirely unexpected, these events offer a fantastic way to enjoy a variety of different cuisines and wines.
For those who love brunch, Sip + Savor continues to serve up delicious brunch options on weekends, allowing you to savor delectable dishes in a relaxed setting.
And don't forget Happy Hour! Monday through Friday, from 3:00 to 6:00 pm, you can indulge in discounted drinks, making it the ideal spot for an after-work get-together or a casual evening out with friends.
Sip + Savor remains a beloved dining destination in the Shops at Highland Village, and the introduction of the Double Bone Pork Chop is a testament to their dedication to continuing to provide exceptional culinary experiences. With their new offerings and commitment to customer satisfaction, Sip + Savor is the place to be for food and wine enthusiasts looking for a delightful and memorable time. So, whether you're planning a special occasion or simply seeking to treat yourself to a delightful meal, make sure to reserve your table at Sip + Savor for a journey of flavor and excitement.
*Sip + Savor is located at 1201 Shoal Creek, Highland Village, TX 75077.