Foodie Friday DFW: The Meat Up
Imagine your friendly, neighborhood block party moved to a brick and mortar restaurant. Well, that's essentially the story behind The Meat Up which opened in Fall 2022 just a few blocks away from Denton Square in a historic Denton church building.
Steve Riney has been cooking and smoking barbecue for his cul de sac neighbors for years. And has been dreaming of opening The Meat Up for the past 10-15. He even had shirts made with the name 10 years ago!
And just like with his backyard barbecues, Steve has gotten the whole community involved. He's been an active member in the Denton Chamber of Commerce. He sources ingredients from local vendors like his locally-sourced sausages. And he really has become a "meat up" for local students, workers, and residents.
At The Meat Up, you'll find a unique selection of burgers, tacos, and sandwiches. And with names that had us cracking up reading the menu - a "Chick Norris" chicken sandwich; the "Porky's Revenge" burger loaded with pulled pork; and the "Fatty Melt."
Which menu items did we try out while we were there?
Steve's selection of smash burgers are top-notch and you can customize them to your heart's content. 1/4 lb or 1/2 lb. Gluten free buns. No bun. Two of his top-sellers are the Got Beef topped with smoked brisket, caramelized onion, smoked cheddar, and BBQ sauce and the Shrooms & Swiss which, as you'd guess, comes topped with swiss cheese and sauteed mushrooms.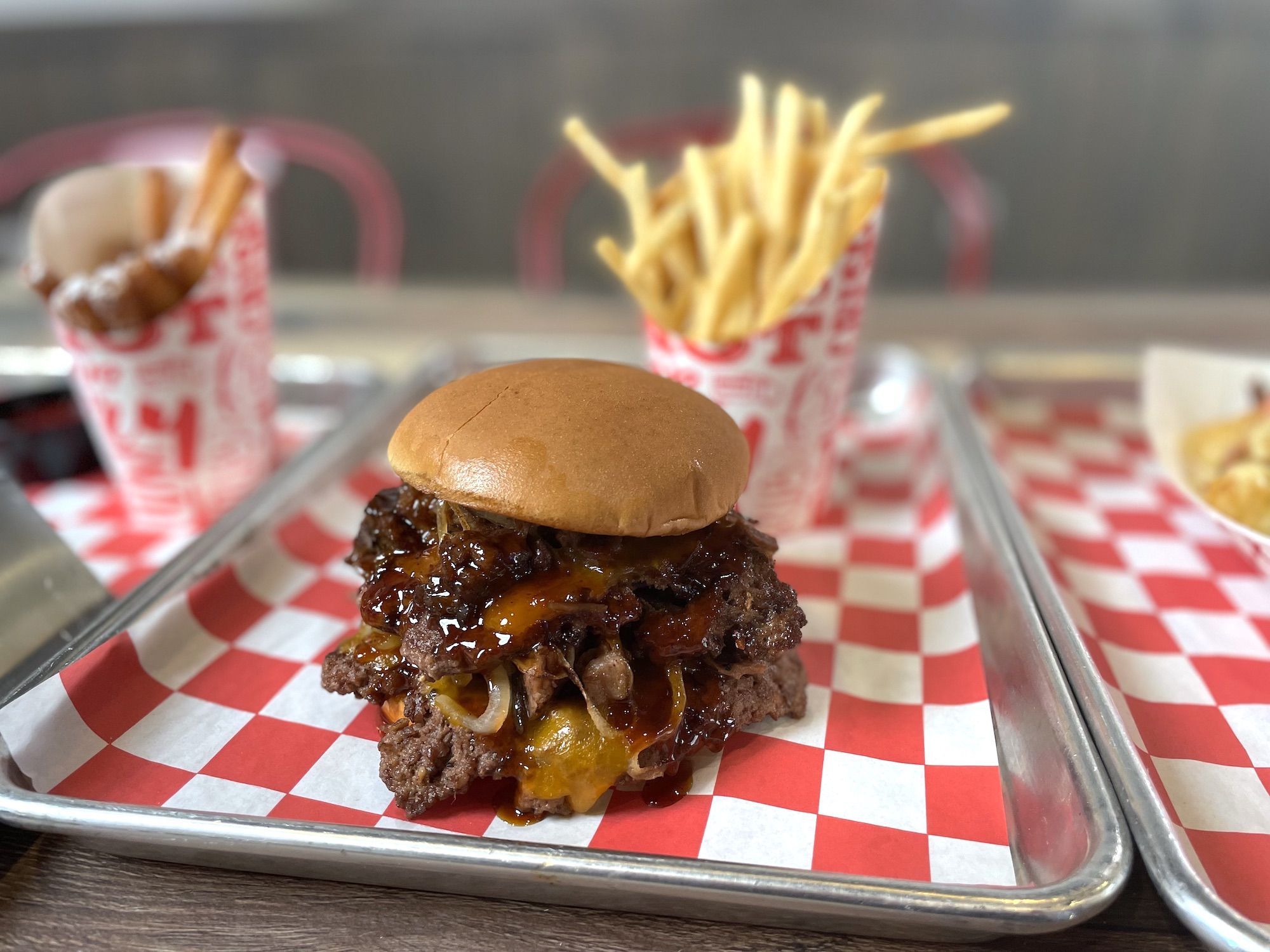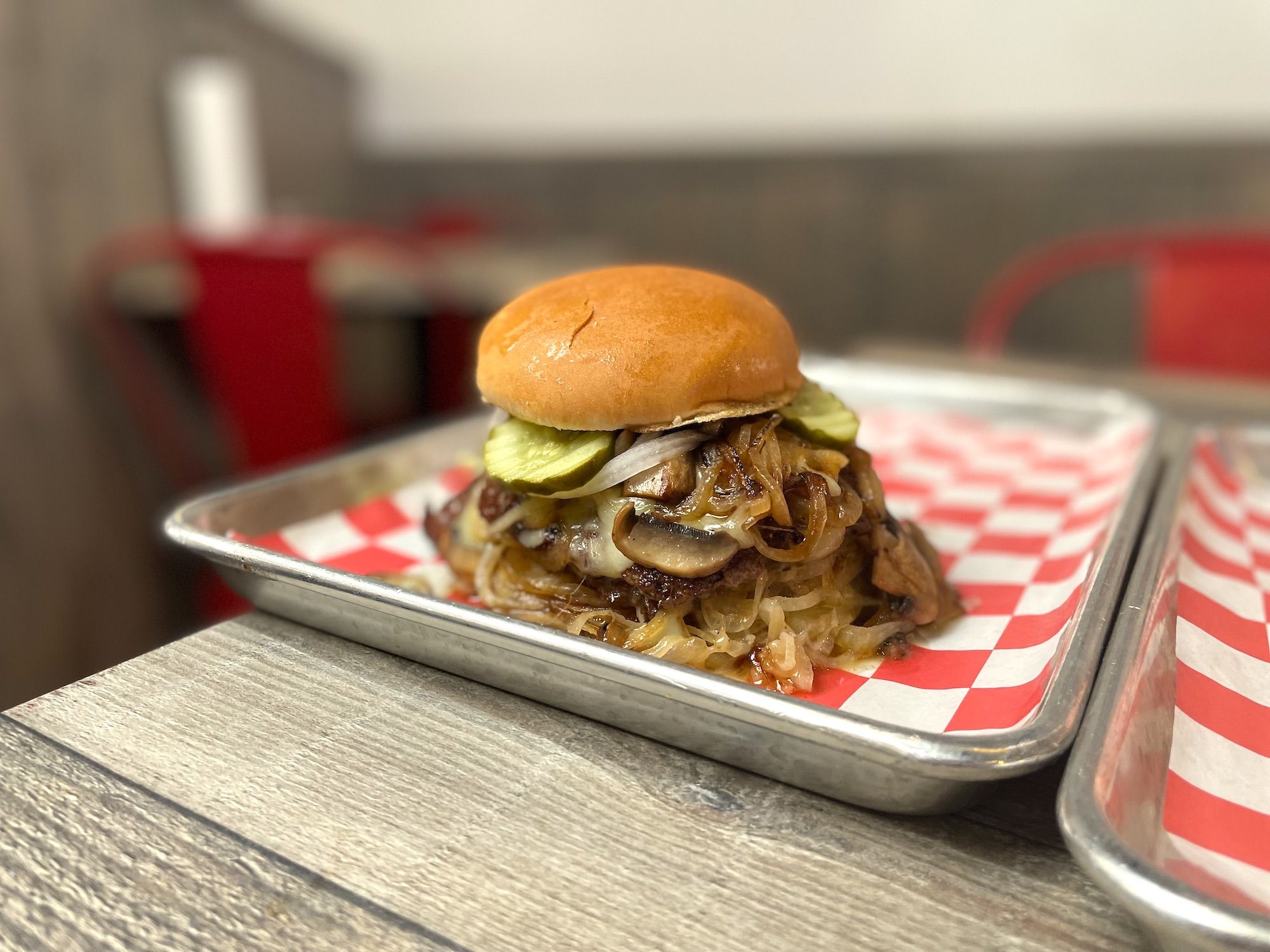 His tacos are just as unique and delicious with options ranging from breakfast tacos to vegan tacos to their Frito Bandito taco made with some of that locally-sourced Frito Pie sausage in a crisp cheese shell and topped with BBQ sauce, jalapenos, BBQ sauce, and sour cream.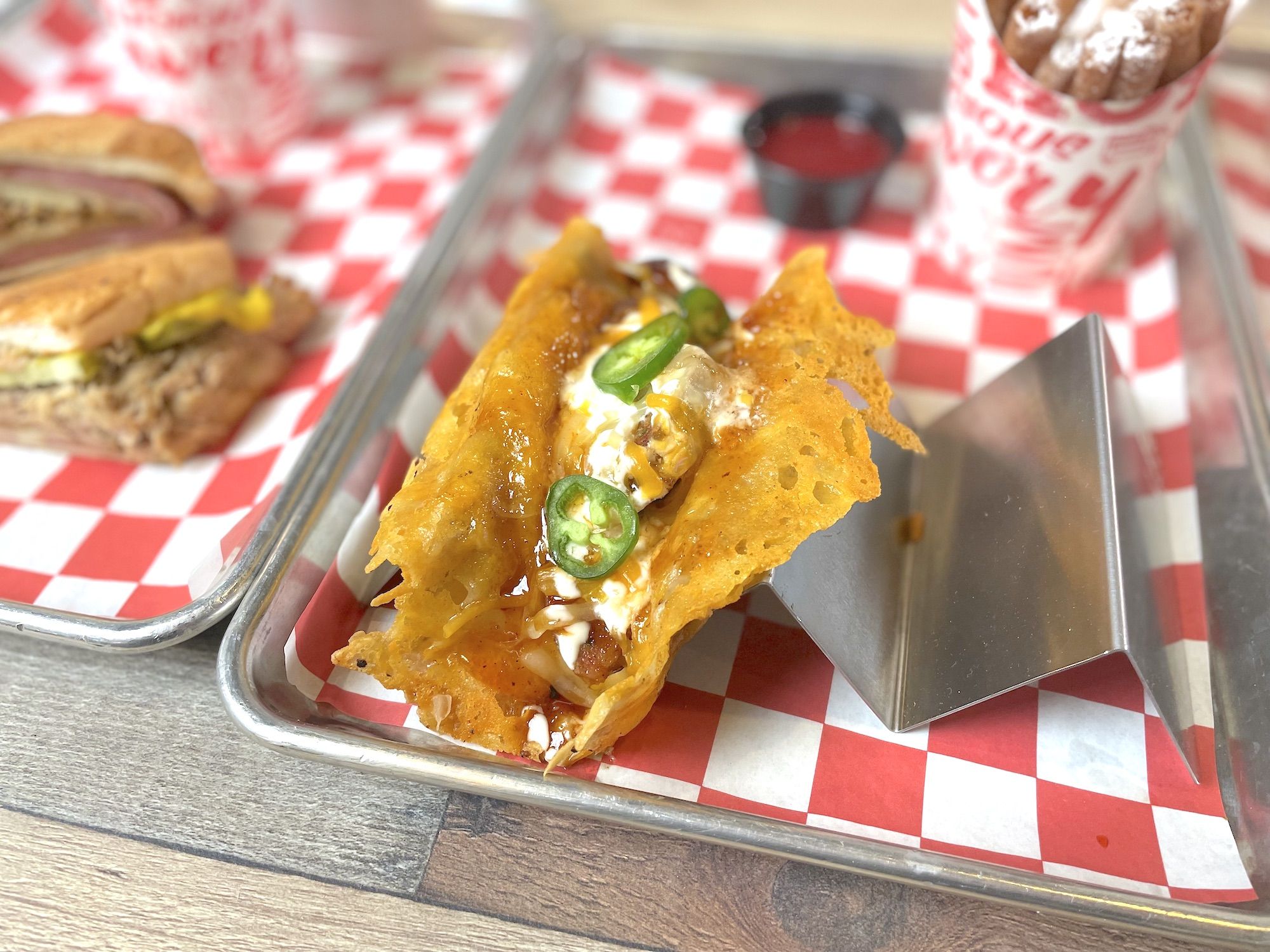 If you like a good Cuban sandwich, then you should definitely try the one at The Meat Up. We learned Steve is quite particular about the pickles he uses on his burgers and sandwiches and they really get a chance to shine as part of his Cuban sandwich.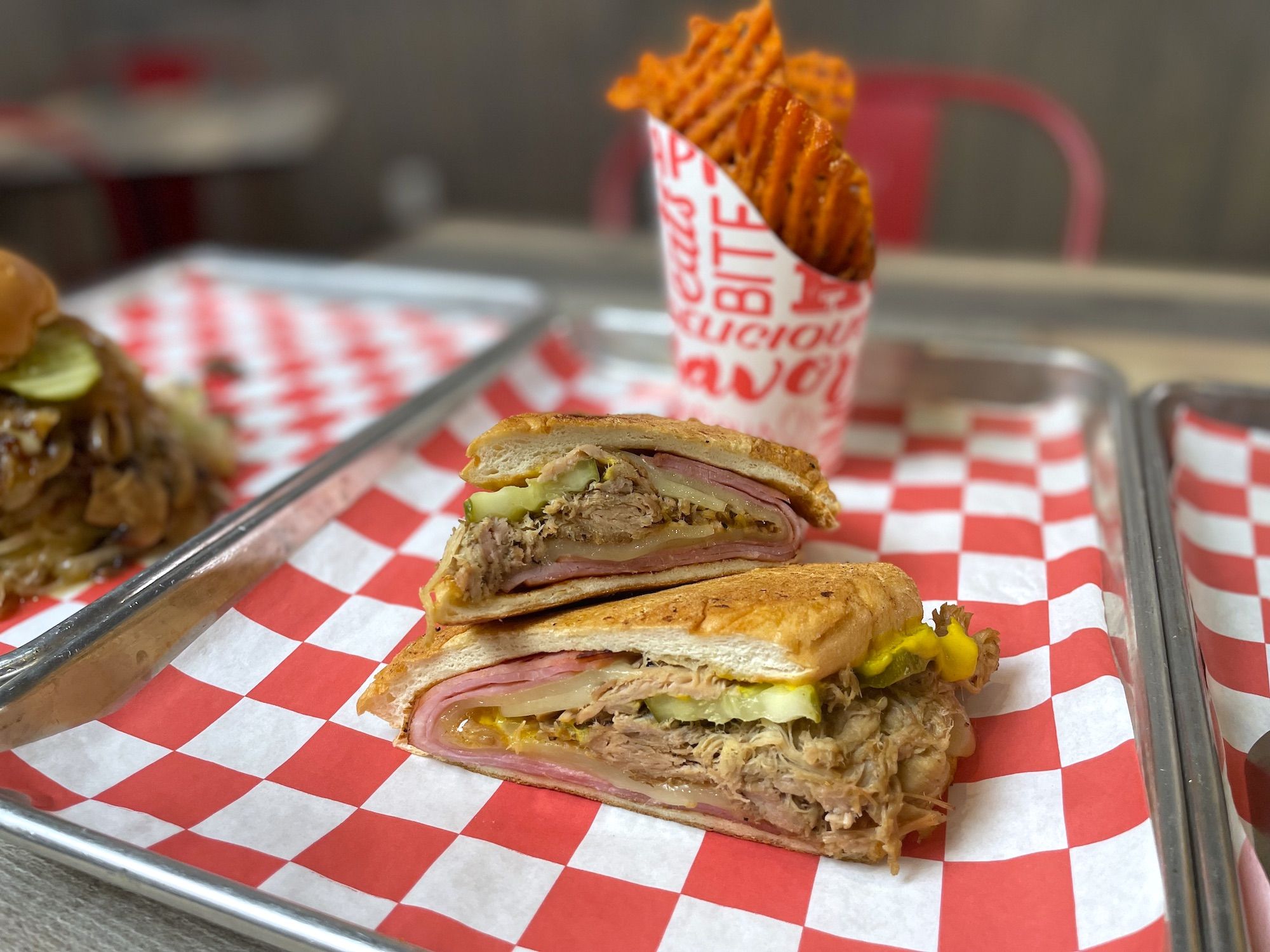 And for all you who have a sweet tooth like we do - you can't go wrong with either of Steve's desserts. We got to try his Funnel Cake Fries which come served with a perfectly-tart strawberry dipping sauce. But we've also heard amazing things about the churros.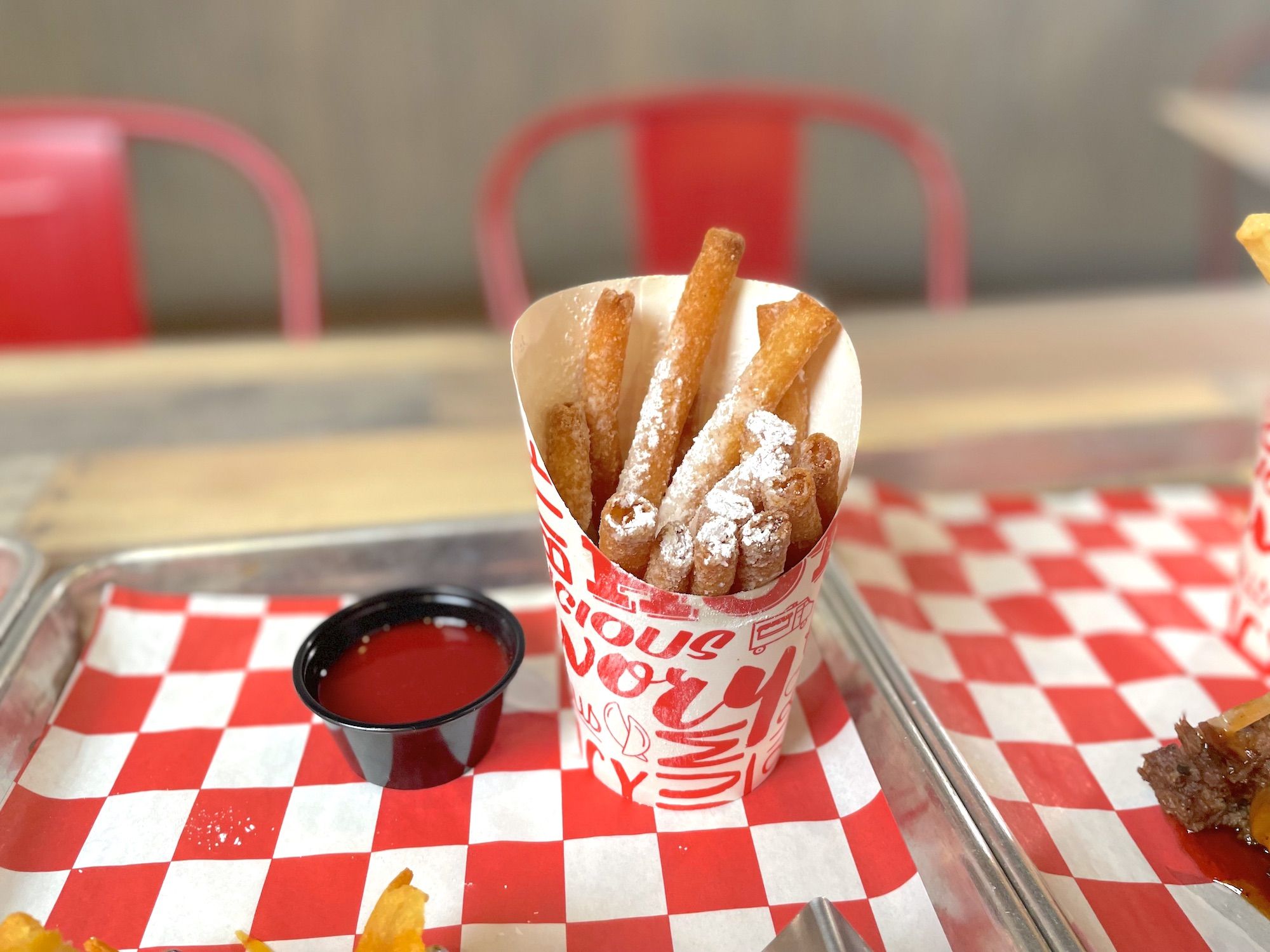 We can't wait for you guys to make this restaurant your new "Meat Up." We've already taken some family and friends back and they were all raving fans by the time we left! So, what are you waiting for? Go try it!
*The Meat Up is located at 529 Bolivar St, Denton TX 76201.